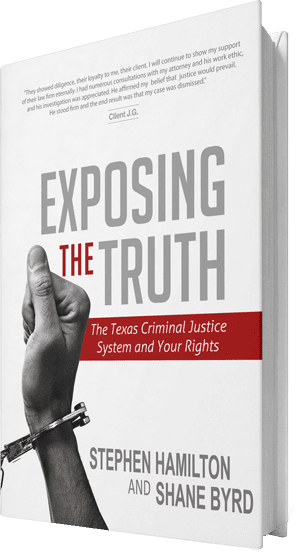 Get Your FREE Copy of the Book by Stephen Hamilton
Exposing the Truth
Secrets of the Texas Criminal Justice System and Your Rights
At Texas Criminal Defense Group, Stephen Hamilton, Deandra Grant, Shane Byrd, Tommy Hull and the rest of the team work tirelessly defending those in their community who are looking for help. Hamilton is heavily involved in his Texas community, consistently attending university events and working with local businesses to give back to those who have put a lot of hard work into making their home a better place.
One of the many reasons the attorneys at Texas Criminal Defense Group practice law is to dedicate themselves to giving back and helping those who are most in need of help. They seek opportunities to assist those in their community whenever they can, and that is why they are happy to announce the Texas Criminal Defense Group Giving Back Scholarship.
These Texas attorneys believe it is important to empower people to participate in their community by also helping them to fulfill their full academic potential. They want to celebrate those unique students who have committed themselves to their education and to helping others.
This scholarship will award $1,000 to the student who best demonstrates what their community service experience has meant and what giving back to their community means to them.
Application Requirements:
All applicants must submit an updated résumé, their status as a student, contact information, and completed cover sheet.
The scholarship candidate must write a 750-word essay in Times New Roman 12-point font that provides a meaningful description of their experiences in community service and what giving back to their community means to them.
Scholarship Eligibility:
This scholarship is offered to any student currently enrolled in an accredited community college, undergraduate, or graduate program in the United States. Students who are incoming first-year college students who are high school graduates or possess a GED can also apply.
The candidate must possess a demonstrated interest in community service and a dedication to their education.
All eligible candidates must be in good academic standing, with a minimum cumulative GPA of 3.0 or above.
A current unofficial transcript from the applicant's school (NOTE: First-year college students must submit an unofficial transcript from their most recent school, as well as an unofficial transcript from their current post-secondary institution.)
Application Instructions & Deadline:
In order to be eligible, scholarship applicants must submit their FULL application (personal statement, cover sheet, transcript(s), and résumé) by email to info@attorneyhamilton.com. The official deadline for all application materials is April 30, 2020. We have extended the deadline to June 30, 2020, due to COVID-19.
Subject Line: Name of the Applicant — Name of the Scholarship
Attachments: Essay, Transcript, Cover Sheet, and Résumé
Visit our winner's page for information about previous scholarship winners!