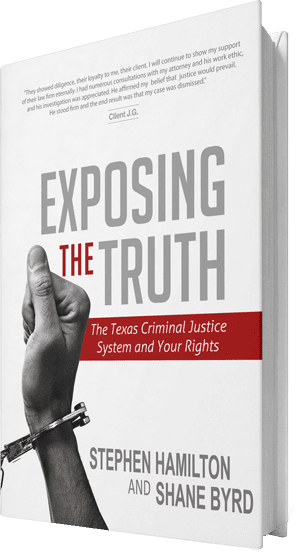 Get Your FREE Copy of the Book by Stephen Hamilton
Exposing the Truth
Secrets of the Texas Criminal Justice System and Your Rights
If you or your child is a college student in need of defense, it is a good idea to consult with an experienced criminal attorney. Being accused of a crime or campus violation can seriously impact a student's education, as well as their criminal record, and even their freedom.
Whether a student is accused of committing a dangerous crime, or simply a school infraction, an Amarillo student defense lawyer can help protect a student's record and reputation at Amarillo College, West Texas A&M University, Vista College, and other institutions.
Having a negative disciplinary record can impact whether a student is expelled or graduates, as well as their ability to transfer credits to another school. In addition, developing a criminal record can follow a person for life, hindering employment opportunities, and potentially limiting where they can live, work, volunteer, and enjoy recreation.
Common School Offenses
Some of the most common infractions and offenses students are accused of in Amarillo include but are not limited to:
Vandalism
Theft and stealing
Cheating and plagiarism
Sexual assault and rape
Online harassment or bullying
Identity theft
Computer crimes and hacking
Using or manufacturing false ID
Drug and alcohol violations
DUI or DWI
Possessing or selling controlled substances
Hazing and assault
Student Crimes vs. University Violations
Most students charged with a crime realize they will need a criminal defense attorney to represent their interests in court. For students who are not charged with a crime but are instead brought up on disciplinary charges at their school. It can be less clear whether they need to find a defense attorney. Many families mistakenly believe what they are told by their student's school and that they do not need an independent attorney because the school is conducting private proceedings. Because the school provides their own student advisor.
This could not be further from the truth. Any student going through disciplinary proceedings or a conduct hearing should have an Amarillo student defense attorney by their side. While some schools bar private attorneys from accompanying students physically into a school hearing. An experienced Amarillo student defense lawyer can still help the student and their family prepare their best defense.
In some cases, students may even choose to leave the hearing or proceeding briefly to step into the hallway and ask their student defense attorney questions or seek counsel. All students have the right to have their interests represented by an independent student defense attorney not connected with the school.
Potential Consequences
If a student is facing both criminal charges and school disciplinary proceedings. A skilled Amarillo student defense attorney will be able to handle both processes. A student may find that the school first chooses to address issues privately, and later reports the alleged offense to police and prosecutors.
It is also possible that a criminal offense reported to police is never prosecuted due to lack of evidence. But the school later chooses to move forward with their own proceedings. Regardless of whether a student is facing private or criminal charges or accusations. It is important to have a skilled Amarillo student defense lawyer involved.