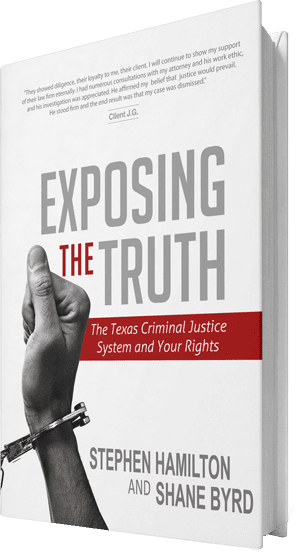 Get Your FREE Copy of the Book by Stephen Hamilton
Exposing the Truth
Secrets of the Texas Criminal Justice System and Your Rights
Looking for employment is stressful enough without worrying about previous legal issues. A person who has encountered legal trouble in past mistake could be concerned that such an incident may disqualify them from a potential work opportunity. Before disregarding the job application, a person may want to consult a tenacious Denton expunction lawyer.
An arrest record, even if charges were never formally filed could appear on a criminal background test by an employer. Additionally, when applying for a position a person may be required to disclose that arrest. The same is true with respect to criminal charges that were filed, but later were dismissed. Arrests and criminal charges may have the potential to damage someone's reputation, both on a personal and professional level. However, a skilled defense lawyer could help find legal options that may improve future employment or education prospects.
Expunction For Denton Residents
Expunction can be an effective way to clear a person's criminal record. However, expunction is generally only available under limited circumstances. When seeking expunction, a person typically may not have a criminal conviction relating to the arrest on their record. Fleeing after posting bail may also discount them from expunction eligibility. The arrest in question generally cannot be the result of a warrant related to a violation of community supervision. Additionally, a person who requests expunction typically cannot have active orders for community supervision. These stipulations are reflected in the Texas Code of Criminal Procedure §55.03.
Criminal Records Eligible for Expunction
Expungement, or as Texas law refers to it, expunction, seals previous records of an arrest, or criminal charges. Only some types of records, however, qualify for expunction. These records may include:
Arrests in which no criminal charges were filed
Criminal charges that were dismissed, except dismissals after deferred adjudication, unless they were Class C misdemeanors
Offenses in which pretrial diversion was successfully completed
Criminal charges in which the individuals were acquitted or found not guilty
Arrests in which an individual's name appeared in the records by mistake
Expunction of these criminal records can have a significant effect on a person's job, housing, educational, and career prospects. Without expunction, someone could be saddled with a criminal history for life, even if they never were convicted of a crime. Contacting an expunction attorney in Denton to determine eligibility for an expunction may be essential to clearing a criminal record.
Criminal Records Not Eligible for Expunction
For some criminal records, however, expunction is not an option. These records include the following:
Arrests resulting in a guilty conviction
Arrests resulting in probation or community service (except for Class C misdemeanors)
Criminal charges that were dismissed, but still are within the applicable statute of limitations period
For those individuals with these types of criminal records, expunction is typically not a viable legal solution. However, there may be other options that could improve a person's quality of life. Contacting a Denton expunction lawyer to determine what legal option apply may be beneficial.
Petitions for Non-Disclosure
Although dismissals after deferred adjudication of charges that regarded Class B misdemeanors or higher are normally not eligible for expunction, they may qualify for a petition for non-disclosure. Although a non-disclosure order still does allow courts and law enforcement agencies to view these records, the court order could prevent employers from viewing them. Prior DWI convictions in which the individuals completed probation or jail time also could be the subject of a non-disclosure order.
Consult with a Denton Expunction Attorney
While expunction is not available in every case, it could drastically improve someone's life personally and professionally. The expunction process to clear a history of certain criminal records may seem daunting, but a dependable defense attorney could help research different legal options.
A Denton expunction lawyer could review a person's criminal history, evaluate the records for eligibility, research different expunction laws, and assist in filing an expunction petition. Make an appointment today to learn more.