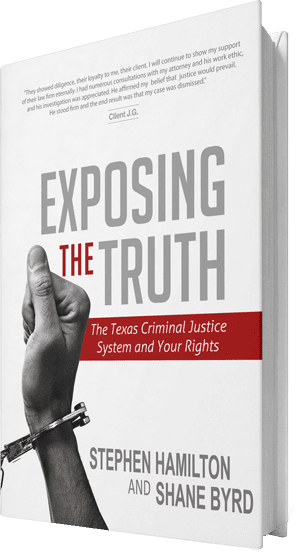 Get Your FREE Copy of the Book by Stephen Hamilton
Exposing the Truth
Secrets of the Texas Criminal Justice System and Your Rights
Federal Appeal
If you have been convicted of a crime in federal court, your primary post-conviction remedy is a direct appeal. Prisoners who remain in custody after a direct federal appeal ends can also file a 2255 motion. A 2255 motion is usually the best post-conviction remedy to pursue following a direct appeal of a federal conviction.
The additional remedies described below, although less common, are also available to individuals who were unjustly convicted of federal crimes.
28 U.S.C. § 2241
Habeas corpus petitions are governed by 28 U.S.C. § 2241. If you are challenging a federal conviction or sentence. The traditional remedy of habeas corpus has been replaced by the 2255 motion.
If you file a petition for a writ of habeas corpus that raises the kind of challenge that can be raised in a 2255 motion. If, for instance, you are attacking your conviction because it was based on a violation of your constitutional rights. The federal court will treat your petition as a 2255 motion. They will then apply the laws and procedures that govern 2255 proceedings.
There are, however, a few instances in which a petition for a writ of habeas corpus. Remains the correct vehicle for seeking a remedy. A "savings clause" in § 2255 provides that a habeas petition can be used to challenge a conviction. If § 2255 provides an inadequate or ineffective remedy. While the court decisions construing the "savings clause" are confusing and conflicting. At least one federal appellate court has allowed a challenge to a sentence based on a change of the law to be raised under § 2241. Only when the prisoner was prohibited from filing a second § 2255 motion to seek a remedy.
28 U.S.C. § 2241 – Continued
A petition for a writ of habeas corpus is also appropriate if you are attacking the way you are being made to serve your sentence. Rather than the sentence itself. Examples of challenges to the execution of a sentence include:
The denial of sentence credit. If you were not given the credit for pretrial detention to which you are entitled, you can raise that issue in a habeas petition.
The denial of good time. Federal law entitles most prisoners serving a sentence of more than one year to a small sentence reduction if they do not violate prison rules. A challenge to the denial or incorrect computation of "good time" credit can be raised in a habeas petition.
Segregation, discipline, or transfers. In limited instances, prisoners can challenge a decision to place them in administrative or disciplinary segregation, to impose other forms of prison discipline, or to transfer them to an inappropriate institution, by filing a habeas petition.
Conditions of confinement. In some instances, the conditions under which a prisoner is confined can be challenged in a habeas proceeding.
Parole. Although parole was abolished for federal sentences many years ago. There are still federal prisoners serving "old law" sentences who are entitled to parole. If parole dates are miscalculated or parole is otherwise denied when a prisoner is legally entitled to release, a habeas petition can be used to challenge the prisoner's continued confinement.
Other instances in which a habeas petition under § 2241 can be filed concern federal detentions that are not caused by a sentence. These include detentions under immigration law, extraditions to a foreign country, and "enemy combatant" detentions.
Coram Nobis
The writ of coram nobis is a remedy that is similar to habeas corpus, but it is not necessarily limited to correcting constitutional errors. It can be used to correct a fundamental error in prior proceedings if the prisoner reasonably failed to raise a challenge earlier and if the interests of justice require a court to grant the writ because the defendant has no alternative remedy.
Rule 33
Rule 33 of the Federal Rules of Criminal Procedure allows a motion for a new trial to be filed if a defendant obtains newly discovered evidence, but only if the motion is filed within three years after a guilty verdict is returned. Therefore provides an opportunity for relief under some circumstances for prisoners who can no longer file a 2255 motion because the limitations period has passed.
This rule also allows a motion for a new trial to be brought on other grounds within 14 days. But that is rarely done. If the grounds for a Rule 33 motion could be raised in a 2255 motion. The court might construe the motion as a 2255 motion even if it brought pursuant to Rule 33.
If the court does that, the opportunity to file a 2255 motion has been used and another one cannot be filed after a direct appeal ends. It is usually better to file a 2255 motion after a direct appeal ends. Than to file a Rule 33 motion before a direct appeal begins.
Rule 35
Rule 35 of the Federal Rules of Criminal Procedure allows the court to correct clerical errors in the imposition of a sentence. If a motion is filed within 7 days of sentencing. The rule also permits the government (but not the defendant) to move the court for a sentence reduction to reward the defendant's "substantial assistance" to the government.
18 U.S.C. § 3582
A motion to correct a sentence can be filed pursuant to 18 U.S.C. § 3582. That statute is most commonly used to modify a sentence. If the Sentencing Guidelines are changed and if the Sentencing Commission makes the change retroactive. A motion for compassionate release from a sentence is also governed by § 3582. But only the Bureau of Prisons can file that motion.
Get Help With Post-Conviction Federal Appeal Remedies
All of these statutes and rules are tools that the post-conviction attorneys at Texas Criminal Defense Group. We can use to help individuals who have been convicted of federal crimes. Trying to decide which statute or rule to use is a bewildering task for unrepresented prisoners. Filing the wrong motion at the wrong time can hurt a prisoner's chance of obtaining relief from an unjust conviction or sentence.