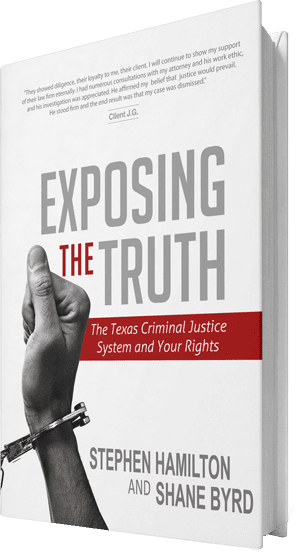 Get Your FREE Copy of the Book by Stephen Hamilton
Exposing the Truth
Secrets of the Texas Criminal Justice System and Your Rights
While expunction can be an effective way to clear your criminal record, it is fairly limited in scope. Only some individuals under certain circumstances are eligible for expunction. Which makes it important to determine your eligibility prior to pursuing it as a remedy. If you are trying to determine whether this is an option open to you. A Fort Worth expunction lawyer may be able to assess your eligibility and answer your related questions.
Generally, expunction allows you to deny the existence of arrests or other records that have been sealed pursuant to an expunction order. Because of that, expunction can be essential to your ability to pursue some careers and get certain professional licenses. Working with an adept defense attorney to obtain an expunction may allow you to change the course of your future.
Expunction of Arrest Records
Expunction is only available as a remedy in selected circumstances. When it is an option, it can seal selected records of arrests, criminal charges, and convictions. Under Tex. Crim. Pro. Code § 55.01, individuals may seek expunction in the following circumstances:
A judge or jury acquitted them following a trial on the charges arising from the arrest, or they were convicted and later pardoned
Charges are no longer pending and did not result in a conviction, and a specified period of time has elapsed since the arrest
Charges were dismissed or quashed because they completed a veteran treatment court program or pretrial intervention program
Charges were dismissed due to mistake, false information, lack of probable cause, or the fact that they were void
Furthermore, arrests are not eligible for expunction if the applicant had a criminal conviction arising from the arrest or if they have a previous expunction order for arrests. They also may not be eligible for expunction if they fled after posting bail for the arrest, if the arrest was due to a warrant for a violation of community supervision, or if the offense was part of a criminal episode for which charges are still pending.
Arrest Records Ineligible in Fort Worth
Aside from the constraints listed above, some arrest records are automatically ineligible for expunction. These ineligible arrest records include:
Arrests resulting in criminal convictions, except for Class C misdemeanors
Arrests leading to charges resulting in probation or community service
Arrests leading to charges that were dismissed following deferred adjudication of charges, other than Class C misdemeanors
Arrests leading to charges that the state dismissed but are still within the statute of limitations for refiling charges
If someone has these types of arrest records, they cannot seek expunction as a remedy. Determining whether certain records are eligible for expunction can be difficult, however, so getting advice from a Fort Worth expunction lawyer can be important.
Alternative Petitions
Individuals charged with offenses that are Class B misdemeanors or higher, but that were dismissed after deferred adjudication of charges, are also ineligible for expunction. However, people in this situation may be eligible to file a petition for non-disclosure.
While an expunction seals all records and makes them unavailable to anyone, a non-disclosure order only makes them unavailable to potential employers and the general public. However, it does permit courts and law enforcement agencies to view the records.
Get Advice from a Fort Worth Expunction Attorney Today
The ability to seek an order of expunction for certain arrest records can have a positive impact on your future career, housing options, and education. Through expunction, you may be able to avoid the negative effects of a criminal history that could hold you back in the future. Getting legal advice from a Fort Worth expunction lawyer can be crucial to advancement opportunities in the future.
While expunction may be available in your situation, you only have one chance to obtain an order. Not only may an expunction attorney in Fort Worth be able to determine your eligibility for expunction. But you may be able to appropriately time your request in order to maximize your chance of success.