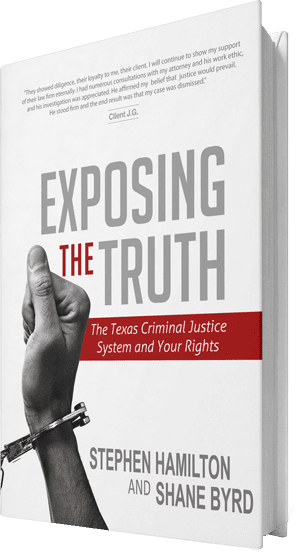 Get Your FREE Copy of the Book by Stephen Hamilton
Exposing the Truth
Secrets of the Texas Criminal Justice System and Your Rights
At Texas Criminal Defense Group, we believe having dedicated criminal appeal counsel can dramatically impact the outcome of a person's criminal appeal. Here are three circumstances in which you may need to hire an appeal lawyer:
You Were Convicted of a Criminal Offense
Some people think there's nothing that can be done after a criminal conviction and they resign themselves to that "fact." These people then try to get as comfortable as possible with spending a large chunk of their lives behind bars. But you may be able to appeal your case. You won't know until you speak to an attorney. A Texas criminal appeal lawyer may be able to achieve a different outcome for you.
You Want to Find Out If Your Case Can Be Appealed
In Texas, criminal cases can only be appealed for specific reasons. An attorney will need to review your situation to see if one of those reasons exists in your case. Sometimes a person consults with multiple attorneys before hiring counsel to handle an appeal. Consulting with more than one attorney lets a person get to know more about each attorney. Understand each attorney's strategy and thought processes, and see how each attorney works.
Your Case Hasn't Gone to Trial Yet and You Want To Preserve Error In Case of a Potential Appeal
If your criminal trial hasn't occurred yet and you think there's a chance you may need to appeal the case, you can hire a criminal appellate lawyer to work with your trial counsel. The appellate lawyer will observe the courtroom proceedings and help the trial lawyer preserve error.
This means that the attorneys will object to the trial court judge's rulings on specific issues. Therefore, letting the judge have the opportunity to correct those rulings. If the trial court judge does not, then the defendant can appeal the case on those grounds. If you are questioning when to hire an appeals attorney. The answer is now. Call Texas Criminal Defense Group today.