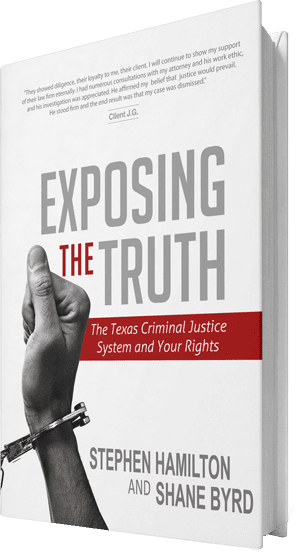 Get Your FREE Copy of the Book by Stephen Hamilton
Exposing the Truth
Secrets of the Texas Criminal Justice System and Your Rights
The role of an attorney bail bondsman in Lubbock is unique in that they immediately develop a rapport with the defendant by developing a defense in their case. Any money paid to a lawyer goes to the individual's defense. The main benefit of having a lawyer post bond is that it gives the attorney an early start on the defense. An attorney could help the defendant post bail and return to work. To learn more about the role of an attorney bail bondsman in Lubbock and how they could benefit you, reach out to a seasoned bail bondsman lawyer.
Why Someone Should Use an Attorney Instead of a Bail Bondsman
An individual should obtain an attorney instead of a bail bondsman to post bail because a lawyer can help the person's case in many ways. The bail bondsman's only job is to keep a person from staying in jail and make sure they go to court on their court date. The bail bondsman cannot give any legal advice, however, a lawyer can. When someone hires a bail bondsman, they are essentially paying someone to hold their hand before their court date. A bail bondsman is basically a glorified babysitter. By obtaining the services of a lawyer, the individual can get an early start on their defense. The role of an attorney bail bondsman in Lubbock is to not only help a person get out of jail but to also build a defense that can keep the individual from having to go back to jail.
Financial Difference Between Hiring a Lawyer and Hiring a Bail Bondsman
Another reason why someone should obtain a lawyer instead of a bail bondsman is due to the financial difference. Any money a person puts up with a bail bondsman is simply to be a liaison. However, any money that an individual pays an attorney goes to their defense. A lawyer gets the defendant out of jail and then can help with the defense, which means that a person does not have to pay twice for something they do not need. Therefore, it is economically smart to obtain a lawyer instead of a bail bondsman.
Resources a Lawyer Could Offer
The role of an attorney bail bondsman in Lubbock is to provide the resources that a defendant may need for their case. A bail bond company cannot, by statute, give legal advice. Only a licensed attorney can give legal advice. A lawyer has much more access to the courts and the ability to gather evidence to help with a defense. An attorney also has the knowledge to develop a strategy for the defendant's case.
Lawyer's Role During Jail Release
The role of an attorney bail bondsman in Lubbock during jail release is to send a representative to the jail to turn in the bond. The lawyer will send the representative after they pick them up and fill out the paperwork. An attorney will also visit the individual in jail so that they can start developing the case early. If there are witnesses to the incident, the lawyer will go interview them. The attorney will attempt to gather as much information as they can about the case. If the lawyer believes that an investigator needs to get involved, then they will bring one in.