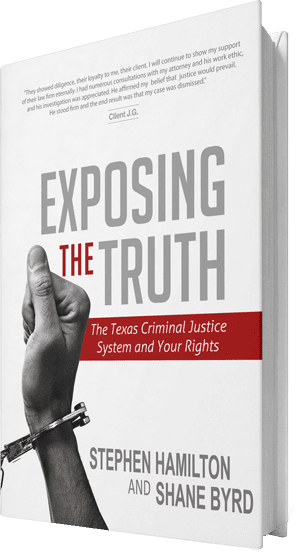 Get Your FREE Copy of the Book by Stephen Hamilton
Exposing the Truth
Secrets of the Texas Criminal Justice System and Your Rights
Challenging a license suspension after a Lubbock third offense DWI can be daunting. But knowing how the process works can give you some peace of mind. Contact a professional and experienced Lubbock DUI lawyer for the knowledge you need to challenge a third offense DWI license suspension.
Challenging a License Suspension After a Third Offense DWI
Four things can be argued to challenge a license suspension in Lubbock:
Whether or not there was probable cause to stop the person
Whether or not there was probable cause to arrest the person
Sobriety tests
Whether or not the person was properly given a statutory warning
The statute claims that an officer has to certify that they gave the individual these warnings both orally and in writing and they provided a copy to the person. A person cannot know the consequences of refusing a sobriety test involving breath or blood. If an officer does not give a person their statutory warning, the license suspension can be challenged. It is not enough for an officer to give the statutory warning after the person is arrested or in jail because a person must know the repercussions of refusing a sobriety test.
Restricted Driver's License After Third Offense DWI in Lubbock
A restricted driver's license in Lubbock is known as either an occupational driver's license or an essential need driver's license. An occupational driver's license and an essential need driver's license are the same. And there are two ways a person can obtain them: through the administrative act and while being convicted with some limitations. If the person a person's license has been suspended administratively, they can get a restricted driver's license. Additionally, if a person has been convicted of the DWI. There is a statement in the statute that will allow them to get what is called an ENL. The ENL allows them to get a restricted license at the same that they are pleading guilty to the DWI. Additionally, there are some terms and requirements, like an interlock device installed in the vehicle.
Steps to Recover License After Acquittal
Under Texas law, if a person goes to trial and they are acquitted. If they are found not guilty, then a Lubbock DUI lawyer will send the not guilty verdict to the Texas Department of Public Safety (DPS) and they must remove the driver's license suspension from the record. If the person gets arrested, gets their license suspended administratively by the state office of administrative hearings, and is acquitted of their third offense DWI in Lubbock, the DPS must return the driver's license. It is mandatory under the statute.
Hiring a Lawyer
Therefore, hiring a lawyer is imperative if someone is attempting to challenge a license suspension after a Lubbock third offense DWI. A qualified and knowledgeable attorney can equip you with the resources and facts that you need to dispute the charge. The average person may or may not know the complex laws involved in a third offense DWI charge and could make a poor judgment based on a lack of understanding. In conclusion, an experienced Lubbock DUI lawyer will work hard during your case for the best outcome.