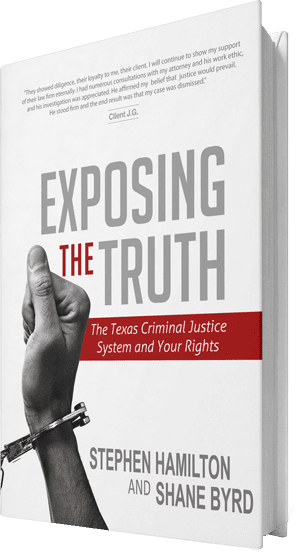 Get Your FREE Copy of the Book by Stephen Hamilton
Exposing the Truth
Secrets of the Texas Criminal Justice System and Your Rights
If you are facing felony DUI charges. You will need representation from a lawyer experienced in building a Midland felony DUI defense. A professional criminal attorney could fight for your rights by examining the prosecution's argument, conducting an external investigation, and using testimony from third-party professionals to help offer a different perspective on the events that took place. Read on to learn more about what goes into building a Midland felony DUI defense. As well as the ways an aggressive criminal lawyer could make a difference in your case today.
Initial Steps to Take
When building a Midland felony DUI defense. The first step an attorney will take is to sit down with the defendant and interview them in an initial consultation. They will speak about what happened during the alleged events. If there were any witnesses, and whatever details particularly stick out to the accused. Next, an investigator will be brought in to find out if there was any additional evidence that could be found to help the defendant. Such as surveillance videos or additional witness statements.
The lawyer will then conduct a background check on the defendant in order to help give the prosecution a better picture of who they are and their role in the community. In addition, an attorney may seek guidance from a relevant external professional such as an accident re-constructionist or doctor to give another perspective on what happened.
Differences from DUI Misdemeanor Defense
While the initial steps in building a Midland felony DUI defense may be similar to those of a misdemeanor case, the differences arise in the specific details that follow the individual's charge. For example, when intoxicated assault or intoxicated manslaughter occurs while driving under the influence, the statute has a causation requirement.
This essentially means that to be guilty of the offense of intoxicated manslaughter or intoxicated assault, the individual who was driving while intoxicated has to be the sole proximate cause of that injury or that death. Another party cannot be at fault. This could be a significant factor in determining what types of penalties a defendant must face.
In addition, an experienced attorney will need to examine exactly what the government is using to enhance one's charge to the felony level. If someone is charged with a third-offense DUI, a lawyer could look into their criminal history to see whether or not their prior cases actually ended in convictions or were conducted in a lawful manner. This could potentially help an attorney lower an individual's charge's down to the misdemeanor level so that they would not have to face a felony conviction.
The Implications of a Felony Charge
Building a Midland felony DUI defense will be more difficult than if the charge were a misdemeanor because there is more liability on the individual's risk of substantial jail time in a felony case. For example, if someone goes to trial for a third-offense DUI, the jury already knows that the defendant has two prior convictions and may penalize them more harshly for it. This can also be complicated if a child was in the car at the same time and was hurt as a result.
This serves as an aggravating factor in a case, and could also play a role in affecting the jury's decision. For these reasons, it will be imperative to receive help from an attorney experienced in building a Midland felony DUI defense on your behalf. Consider reaching out to a weathered criminal lawyer today for your initial consultation.