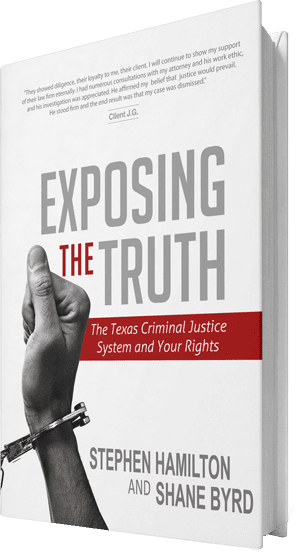 Get Your FREE Copy of the Book by Stephen Hamilton
Exposing the Truth
Secrets of the Texas Criminal Justice System and Your Rights
While facing charges for your second offense DUI, your driver's license following a Midland second offense DUI is just one of the many things in your life that are at risk. However, know that you do not have to face the full weight of the charges alone. An experienced DUI lawyer has the potential to make a difference in your case.
Steps Following a Second Offense DUI
There is a mandatory suspension of an individual's driver's license following a Midland second offense DUI, whether it is a probative suspension, a probated conviction, or jail time. If the person is eligible, the lawyer can do the conviction interlock or apply for an essential needs license to make it possible for the person to drive legally.
If the driver is convicted of a second offense DUI, their license is suspended for a minimum of one year regardless of whether they did probation or received jail time.
Differences in Challenging Suspension of a License After a Second Offense DUI
When a person is arrested on a second offense DUI; they should be read the statutory warning and then asked for a sample of their blood and breath. If they give a sample and the BAC is over or they refuse, they receive the notice of suspension temporary driver's permit. They have 15 days to request a hearing. If they do not handle this issue within 15 days, their driver's license goes into an automatic suspension for 40 days.
The automatic suspension is longer for the second offense than for the first offense. For a first arrest, not conviction, if a sample of blood or breath is over the legal limit, there is a 90-day suspension. For the second arrest, the person gets a one-year suspension instead of a 90-day suspension. If they refuse the second time, they get a two-year suspension instead of 180 days. The administrative suspension is longer. Life could become difficult for those that need their license following a Midland second offense DUI.
Essential Need License and Interlock Devices
Moreover, a person must wait before they are eligible for an essential need license. On a first offense, in which they are handed a 90 or 180-day suspension. They would be eligible to get the occupational license immediately. It takes a few days to get done through the court, but they are eligible.
With the second offense, along with the one-year-suspension. They would have to wait 90 days before they are eligible for that type of license. This is what is known as a hard wait. An individual is not able to drive at any point within those 90 days. If they are caught, it would be a Class B misdemeanor, driving with a license invalid. The person is arrested in that case and it would affect the standing of a DUI. Some judges may even revoke the person's bond or place another sanction on the person.
Restricted and Reinstated Licenses
When a person is found not guilty of a second offense DWI, the license is returned to the person. There are some requirements that must be met from the legal standpoint to remove the suspension from the license following a Midland second offense DUI. It does not matter what license the person holds. The same is true for a regular driver's license and a commercial driver's license.
A person can get an occupational driver's license as a restricted license. As previously stated, there is a waiting period. However, under the law that went into effect in 2015, the same rules apply to a first offense conviction if a person is suspended for the second offense. So, even though the person's suspension may be a two-year suspension. If the person has an interlock in the vehicle. They will be eligible for asking the judge or the court for the conviction suspension essential needs license.