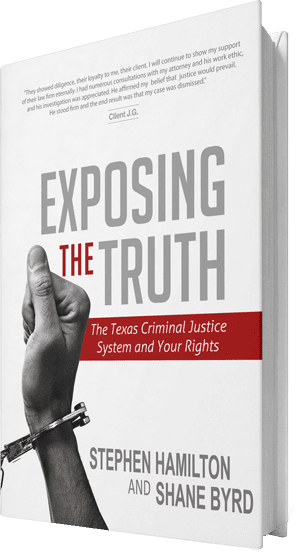 Get Your FREE Copy of the Book by Stephen Hamilton
Exposing the Truth
Secrets of the Texas Criminal Justice System and Your Rights
Experienced Plainview student defense lawyers firmly believe in providing students with legal representation to prevent a single mistake or moment from defining their futures. Whether the accused student is 13 or 18, they may face legal, financial, and educational consequences that can follow them for years.
With the help of a seasoned defense attorney, you or your loved one can rest assured knowing that your case can be investigated thoroughly, strategized creatively, and defended passionately to yield the best possible outcome.
Common Charges Against Students
There are several common charges that students face frequently. These offenses include:
Alcohol-related charges such as DUI/DWI, MIP/MIC, public intoxication, and providing alcohol to minors with criminal negligence
Drug possession of Schedule II "study drugs" like Adderall and Ritalin
Resisting arrest
Disorderly conduct
Marijuana possession
Assault
Sexual assault
Theft, shoplifting, and burglary
Offenses against students are diverse and wide-ranging in severity; some are classified as misdemeanors while others are felonies. Even though the student offender may be young, they will likely be charged as a juvenile only if they are between the ages of 13 and 17.
If the accused individual is 18 or older, they will likely be tried as an adult and may face a trial by jury, jail or prison time, fines, suspension or expulsion from school, and/or the loss of certain rights and privileges like a driver's license.
A Plainview student defense lawyer fights to help students combat the charges they are facing and protect their rights.
Potential Academic Consequences for Students
When students are charged with an offense—regardless of whether it happened on or off campus—they are often required to go before their college or university's ethics or rules board for a disciplinary hearing. Most universities require students to face penalties whether they violated a law or a university policy. Students may face consequences including:
Withholding grades or transcripts
Withholding degrees
Suspension
Suspension of certain privileges and rights
Disciplinary probation
Restitution for any damages
Barring against readmission/re-enrollment
Expulsion
Students Have the Right to A Lawyer
Regardless of the offense committed or the policy violated. Students have the right to an advisor to help them through the disciplinary process at their college or university. This advisor is chosen at the discretion of the student and can be an attorney. Plainview student defense attorneys have a record of success in defending students' rights in a court of law and before their universities.
Contact a Plainview Student Defense Attorney
If you are a student that has been charged with a crime or university violation of any nature. Consider contacting a Plainview student defense lawyer as soon as possible to begin exploring your options. These options may include requesting pretrial intervention or a pretrial diversion program or coming up with a defense strategy to lessen or drop the charges.
Plainview student defense attorneys could help you fight your charges in court and any consequences handed down by your college or university. Call today to learn more about how we can help protect your rights and minimize the short and long-terms effects on you or your loved one's future.