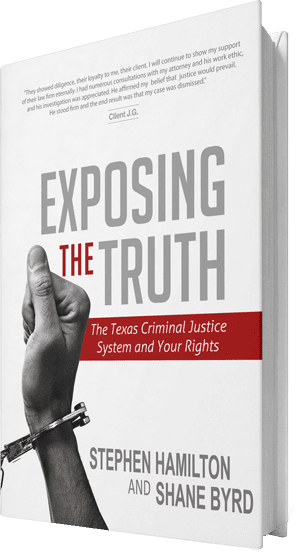 Get Your FREE Copy of the Book by Stephen Hamilton
Exposing the Truth
Secrets of the Texas Criminal Justice System and Your Rights
If you are under investigation or were charged with a federal offense, consider reaching out to an experienced San Antonio federal criminal lawyer. Federal prosecutors tend to have more resources than those at the state level, which underscores the importance of obtaining legal representation.
It is not advisable to represent yourself in court. An attorney who understands federal laws and procedures could fight for a favorable resolution to your charges.
Common Federal Charges
Many criminal offenses are tried at the local or state level. However, several types of cases fall under federal jurisdiction instead. For example, offenses committed on federal property or violations of U.S. law are prosecuted in federal court. Some common examples of federal criminal charges include:
Identity theft
Counterfeiting
Mortgage fraud
Credit card fraud
RICO Act offenses
Kidnapping
A San Antonio federal criminal attorney could answer questions about these and other offenses and provide legal representation in a wide range of cases.
Grand Jury Subpoenas
A federal case often begins when a prosecutor takes a case before the grand jury. If a grand jury determines that a potential defendant is likely to have committed the alleged crime, they issue an indictment. This means the case can be prosecuted in federal court.
It is possible for an individual to receive a grand jury subpoena and not be indicted. The subpoena simply requires a person to appear before the court. However, it is important to take this seriously to avoid self-incrimination or otherwise making the situation worse.
A San Antonio federal criminal attorney could help a person properly prepare before testifying in front of a grand jury. By preparing for a hearing in advance, an experienced attorney could help protect a person's interests and minimize their chances of facing an indictment.
Fighting Federal Charges
There are many ways a federal criminal attorney in San Antonio could help a person fight their charges. While an investigation is ongoing, it might be possible for an attorney to resolve the case before a person is ever charged with a crime. If a person is facing federal charges, an attorney could provide valuable legal advice and prevent the situation from getting worse.
Another key benefit of legal counsel is that they can fight to have the accused released on bond. Finally, a defense attorney could prepare a strategy for defending a person against federal prosecution.
Contact a San Antonio Federal Criminal Attorney Today
Federal cases are often prosecuted to the full extent of the law. The U.S. government has vast resources at its disposal, and federal prosecutors often fight tirelessly for a conviction. If you face charges, you should seriously consider retaining a San Antonio federal criminal lawyer as soon as possible.
Facing federal charges on your own can be overwhelming, and you may be unsure how to fight back and protect your interests. Fortunately, an experienced defense attorney could advise you about your legal options and how to assert your rights. Therefore, call today to schedule a consultation.