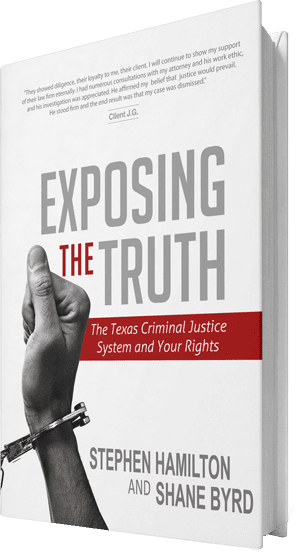 Get Your FREE Copy of the Book by Stephen Hamilton
Exposing the Truth
Secrets of the Texas Criminal Justice System and Your Rights
Going away to college is often the first chance that young adults have to break. Free from parental authority and experience life on their own. Therefore, it is not unusual for college students to experiment, which sometimes lands them in legal trouble. Rather than allowing a minor lapse in judgment to overshadow a promising future. You may wish to contact a San Antonio student defense lawyer for advice.
An arrest or criminal conviction can have serious consequences. But there are ways to minimize the impact of this incident on your life. Building a strong defense to any charges and obtaining representation in student conduct code proceedings with the help of an experienced defense lawyer may be essential to protecting your future.
Underage Alcohol Offenses in San Antonio
Many college students start school at age 18 or 19, but alcoholic beverages are still illegal for those under the age of 21. Pursuant to Tex. Alc. Bev. Code § 106.05, it is illegal for individuals under the age of 21 to possess alcohol, and under § 106.04, it is illegal for individuals under the age of 21 to consume alcohol.
A first violation of any of these sections is a Class C misdemeanor charge under Texas law, which normally results in a fine of up to $500, eight to 12 hours of community service, and a 30-day suspension of driving privileges. For anyone with one prior conviction, the community service hours can increase to 40 and the driving suspension can increase to 60 days. However, if the accused is over the age of 18 and have two prior convictions, they can receive the following penalties:
A fine ranging from $250 to $2,000
A jail sentence of up to 180 days
20 to 40 hours of community service
Loss of driving privileges for 180 days
Any community service hours must relate to education about or prevention of alcohol and drugs. Since the penalties for underage drinking can become severe, particularly for those who have prior convictions, contacting a student defense lawyer in San Antonio may be wise.
Other Common Alcohol-Related Offenses
Minors who consume alcohol and then operate a motor vehicle can also be subject to criminal charges. The difference is that for adults to be charged with drunk driving, they must either demonstrate some appreciable level of impairment in their ability to drive or have a blood alcohol content (BAC) measure 0.08 percent or greater. For minors, however, the standard is far lower, in that they violate § 106.041 if they have consumed any alcohol.
Students who are over the age of 21 can still face alcohol-related charges. For example, they can be charged with DWI, just like any other adult, if their BAC measures 0.08 percent or more or their ability to drive is substantially impaired. These students also may run afoul of Texas Alcoholic Beverage Code § 106.06, which makes it unlawful for adults to provide alcohol with criminal negligence to minors.
College Disciplinary Actions
While many charges students face tend to be alcohol-related, they can face other charges, as well, including minor drug possession, assault, sexual assault, and theft. These offenses also can have serious consequences if the person is convicted. In many cases, there may be pre-trial intervention programs available for first-time student offenders.
In addition to criminal charges, however, college students are likely to face college conduct code proceedings. Even if charges are never filed or are later dismissed, students still can be subject to administrative sanctions, including probation, suspension, and expulsion. A student defense attorney in San Antonio may be able to represent a student throughout these disciplinary proceedings, as well.
Allow a San Antonio Student Defense Attorney to Help
The repercussions of a conviction can be severe enough, but accompanying student conduct code violations can place permanent black marks on your academic record. Fortunately, there may be ways of resolving both criminal and university disciplinary proceedings in your favor. A San Antonio student defense lawyer may be able to guide you throughout both types of proceedings.
A simple mistake should not adversely impact your future educational and professional endeavors. Obtaining strong legal representation throughout all proceedings can have a significant impact on the outcome of each case. Call now.