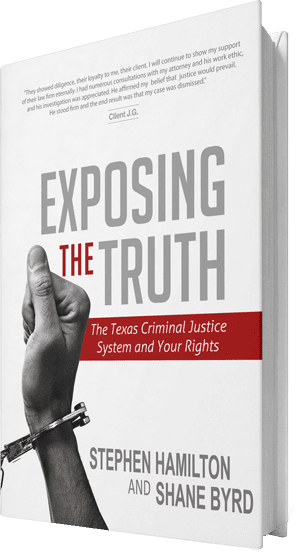 Get Your FREE Copy of the Book by Stephen Hamilton
Exposing the Truth
Secrets of the Texas Criminal Justice System and Your Rights
We are very fortunate to have formed excellent partnerships with many of our clients. And we've formed more than just working relationships with them; we have formed true friendships. Here's what they're saying about us.
Beyond Exceptional Person AND Attorney
Mr. Hamilton, is by far the most exceptional attorney I have encountered. Unlike the other attorneys I have met, who just want a retainer up front without returning at least decent services, Mr. Hamilton possesses none of these negative traits. He is up front, to the point, and charges about the same or less than subpar attorneys. If I stayed with my ex-attorney I would have pleaded guilty to something that Mr. Hamilton was able to fight for and DISMISS!!! HE TRULY IS A HARD WORKING ATTORNEY, ALWAYS, ALWAYS RETURNS PHONE CALLS/CORRESPONDENCE AND NEVER DODGES HIS CLIENTS. OUTSTANDING JOB AND SERVICE EVEN AFTER MY CASE WAS FINISHED!!
Excellent Attorney
Mr. Hamilton was very honest throughout the legal process and always informed me of what the next possible steps could be. This allowed me to prepare myself and take the best steps to move forward. I would highly recommend Mr. Hamilton to others.
Excellent Attorney
I cannot say enough good things about Mr. Hamilton. He is very knowledgeable. He was always looking out for my best interest and made sure my DWI charge would not damage my reputation or jeopardize future opportunities. He would speak to me personally and even met me on Saturdays to discuss my case. He is without a doubt the best DWI/DUI attorney in the region.
Excellent Job
Mr. Hamilton was a tremendous help. He and his staff are extremely knowledgable, and I am extremely grateful to have had such an excellent attorney working for me.
Awesome Job
Stephen was very trustworthy through this whole process. I having never gone through this type of thing before, was amazingly comfortable because Stephen helped and explained so much of it. I would definitely recommend Stephen to whomever has a dui/dwi.
Amazing and Forthright Attorney
Everything Mr. Hamilton told me in our preliminary meeting came to be as he stated. He was very receptive to working on a payment plan and did everything I could have asked of him. Amazing experience
A Real Answer to a Prayer
Mr Hamilton is a strait shooting profesional I would recommend to anyone. He was able to get my DWI case dismissed and kept my CDL. I could not have been in better hands. Choosing Mr. Hamilton is a no brainer. He is simply the best. I thank God for him.
THE BEST DEFENSE LAWYER!!!
Mr. Hamilton will be your best and easiest decision when it comes to picking a lawyer for whatever your needs may be. He was available whenever I needed him and always a phone call away. His staff is just as amazing and friendly. I spoke with a couple lawyers before I met with Steve and before he was even done explaining how he operates, I had already decided that he would be my lawyer. Picking a lawyer is not always easy but Steve made it a done deal. Just the way he handles himself and operates you can tell he is efficient and highly effective. He will work hard to get you the best outcome he can and will go the extra mile to do his best! I highly recommend Steve Hamilton as your next lawyer and wish you the best of luck!
Wonderful Representation!
Mr. Hamilton provided exceptional legal representation regarding my DWI matter in early 2009. I entrusted Mr. Hamilton from the beginning of my case; he was incredibly honest and up-front about the many possible outcomes I could be facing. The communication I received from his office throughout the duration of my case helped me to feel I had people on my side. With Mr. Hamilton's ability to negotiate with the District Attorney's office, my legal matter was handled within a timely manner and I was pleasantly surprised with the outcome. He's a superb and ethical attorney in every respect. I would highly recommend Stephen Hamilton for any future defense needs.
Stephen Hamilton Review
Mr. Hamilton represented my son in a DWI case. He was very honest with us from the beginning. He told us all the possible outcomes, including the most probable outcome. We had a very favorable decision. I am convinced this was due to the constant communication that Mr. Hamilton had with the DA's office concerning our case. He spoke about specific details regarding the case. I believe the DA's office thought that Mr. Hamilton was very involved attorney, and that this case would be more difficult to win because of his thoroughness and attention to detail.