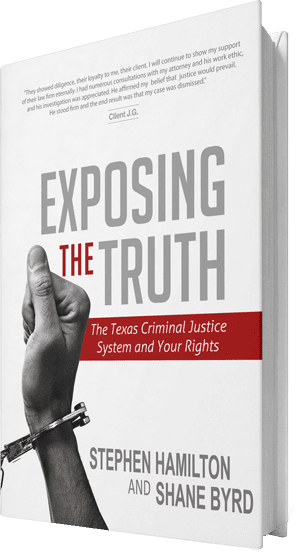 Get Your FREE Copy of the Book by Stephen Hamilton
Exposing the Truth
Secrets of the Texas Criminal Justice System and Your Rights
Everybody makes mistakes, it is human nature. But when past mistakes threaten a person's future, that person deserves a chance to set the record straight. If your criminal record is jeopardizing your ability to get a job, a home, or a loan, a Texas criminal record expunction lawyer could work to help clear your name.
Additionally, those unsure of what may exist on their criminal record can benefit from the help of an attorney too. Many people are shocked to learn that arrests and charges can remain on a person's record long after they are acquitted of a crime.
A knowledgeable criminal defense attorney can help you protect your reputation and clear your record. Expunction or expungement ensures that your record is wiped clean as though the arrest never even occurred.
So long as you have never been convicted nor placed on probation, you have a good chance at clearing your name. Call a Texas criminal record expunction attorney today to determine your eligibility.
Reasons to Expunge a Record
A person cleared of a criminal offense deserves a clean slate. Some of the most important benefits of expunging a person's record include:
Better job opportunities
Better housing opportunities
Better opportunities for education
Removing the stigma associated with having a criminal record
Protecting one's name and reputation
People grow, change, and evolve over time. Past mistakes should not be held against them. Many people who were arrested at one time can find themselves changed for the better after facing charges. By expunging one's criminal record, a person gets a second chance to make things right.
Social Stigmas Attached to Criminal Histories
When applying for jobs, your potential employer does not have to be told of your criminal record after Texas expunction. However, it can be important to emphasize reform because you have proven to whatever court convicted you that you have learned from your past transgressions and have become a responsible member of society.
Remember, even when agencies can access your records, they will know that you have successfully petitioned for a non-disclosure or expunction. They will also find no convictions on your record. While there is plenty of social stigmas attached to having even been arrested, it is nowhere near as damaging as wearing a conviction on your record.
Criminal Record Expunction Eligibility
Not all criminal records are eligible for expunction. Before beginning the process of expunging a charge from a record, a person should work with a Texas expunction attorney to determine if they are eligible. In Texas, the following types of criminal records are not eligible for expunction:
Arrests resulting in a guilty conviction
Arrests resulting in probation or community supervision, with the exception of Class C misdemeanors
Criminal charges that have been dismissed but are within the statute of limitations time period
Charges Eligible for Expunction
Generally, the following types of charges are eligible for expunction from the records of those arrested and/or convicted in the state of Texas:
Arrests in which a person was released and not charged
Criminal charges that were dismissed (though dismissals after deferred adjudication may not be expunged, with the exception of Class C misdemeanors)
Criminal charges that resulted in not guilty verdicts
Criminal charges that resulted in acquittals
An arrest in which a person's name appears by mistake
Filing fees for expungement are non-refundable, so it is important to fully understand the laws surrounding expunction. The best way to determine if a charge can be expunged from a person's record is to a contact a Texas expunction lawyer.
Texas Expunction Attorney is Available to Help
You may be eligible to have your record expunged. Call a Texas expunction lawyer today to set up a confidential consultation. Getting your record sealed or expunged can be a lengthy and confusing process. Allow an attorney to take the lead for you.
Discuss your options for clearing your name with a Texas expunction attorney. A phone call is the first step towards your future free from a criminal record, and your ability to move on with life in a positive, new direction.