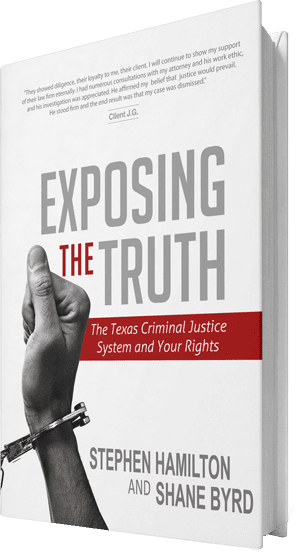 Get Your FREE Copy of the Book by Stephen Hamilton
Exposing the Truth
Secrets of the Texas Criminal Justice System and Your Rights
When you are taken into custody, the police can legally hold you for up to 72 hours without filing charges. Expunction of Texas charges never filed may sound uncommon but surprisingly it is not. Instead, it is an intimidation tactic. They may want to get information out of you and use arresting you as a tool to frighten you into talking. For more information on waiting periods and administrative oversight involved in your criminal arrest, speak with a skilled expunction lawyer.
Understanding Scenarios of Probable Cause
If an arrest was made subsequent to someone's being in detention. The officer must bring the evidence indicating probable cause for that arrest to a magistrate. In their case, the arresting officer may have failed to prove probable cause. Without doing so, the arrest cannot be retrospectively warranted (i.e., a warrant cannot be issued) and charges cannot be filed. Even though someone was already arrested, if there were no grounds for the arrest, no arrest warrant could be justified. No charges could be filed because the arrest had no justifiable basis.
Of course, this will not erase an arrest from the individual's record and they will still have gone through the stress and anguish of being arrested and held in custody. But it does make them eligible to petition for an expunction. Another possibility is administrative oversight. Cases involving expunction of Texas charges never filed can occur if an officer has forgotten or lost paperwork. There are plenty of reasons why charges might not have been filed. And therefore plenty of reasons why someone could later be eligible for expunction.
Statutes of Limitations and Waiting Periods
Each misdemeanor and felony charge carries a statute of limitations. That is the amount of time that can legally elapse between when the crime was committed and when charges are brought which can last for years.
That is a long time to be in limbo, unable to seek expunction, and knowing that at any time the other boot may drop and they may end up facing charges for an arrest they thought they had put behind them years earlier. Up until fairly recently, innocent people were forced to wait until the statute of limitations was up before petitioning for expunction.
In 2011, a law was passed to give people trapped in this holding pattern relief. If charges are never filed, someone can seek expunction long before the statute of limitations expires. Contingent upon how serious the charges are. The current waiting periods are 180 days for a Class C misdemeanor, one year for Class A and B misdemeanors, and three years for felony charges. Once their particular waiting period has passed, an individual can petition for expunction. Of course, this relief statute did not come without a compromise.
Benefit of an Attorney in the Expunction Process
Although your records will be expunged and you can legally deny the arrest ever happened. Law enforcement officials can request copies of your records to be kept if they are still investigating your case. Since the statute of limitations has not expired, they can still charge you up until that time.
The solution to this is to get the attorney representing the state to certify that the records regarding your arrest are no longer needed and can be fully destroyed with your expunction. Once it is certified that your arrest records are no longer useful, they can be completely destroyed. It is important to note here that the reduced waiting period only applies if your charges were not accompanied by other felony charges from the same criminal episode.
If you are arrested for possessing a felony's worth of a controlled substance and a Class C misdemeanor charge for paraphernalia. You cannot just wait 180 days and get your paraphernalia arrest expunged. You have to wait until the statute of limitations for the felony is up before seeking expunction. Contact a criminal attorney about how to defend yourself in the case of expunction of Texas charges never filed.
For more information on this topic please reach out to our experts at Texas Criminal Defense Group at (866) 557-4343 or through our contact page.