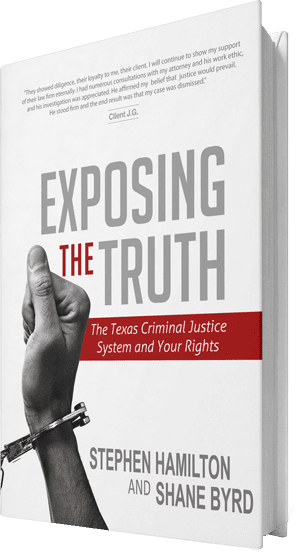 Get Your FREE Copy of the Book by Stephen Hamilton
Exposing the Truth
Secrets of the Texas Criminal Justice System and Your Rights
Expunction is a possibility for you to wipe the slate clean and start fresh without a tarnished record. When it is time to arrange and file your petition for expunction, an attorney and the paralegals at the attorney's office could assist. You will need to gather all of the necessary information about yourself, your charge, your case, and all of the court proceedings stemming from it.
You then fill out a petition and file it with the appropriate court within the prescribed timeframe. Timeframe and place differ depending on what kind of expunction you seek.
Make sure you are absolutely clear on what evidence you need to provide, to whom, and when. You do not want to miss this opportunity because you forgot a date, delivered your petition to the wrong court, or filled out the right petition for the wrong type of expunction. Consult a qualified attorney that can guide you through the Texas expunction procedure.
Civil Nature of Expunction Procedure
By the time a person finds themselves submitting an expunction petition, chances are they have been immersed in the criminal justice system for a while. While a person's charges are criminal charges, expunction is not a criminal court proceeding. Regardless of what kind of expunction a person seeks, the procedure is civil in nature and people are therefore subject to the requirements of civil court.
That means it is on the individual to show a preponderance of evidence during the Texas expunction procedure. Someone must meet all of the requirements for their expunction to be granted. This is not a case of you being considered innocent until proven guilty; this is not about determining whether or not you broke the law.
Think of it like registering a car that someone just bought. A person cannot just omit the license plate number or their driver's license information and expect to get a title in the mail. The individual has to provide all of the required evidence and all of the required information to have a shot at their desired outcome.
What a Petition Must Show
The petition must clearly show the following information about the individual:
Who they are
What they were charged with
Where the alleged crime took place
Where they were arrested,
Where the actual records subject to expunction are
This last step in the Texas expunction procedure is of the utmost importance for the simple matter that for a person to have their records destroyed, they must first know where to find them.
Locating Agencies With Possession of a Person's Records
Any agency with possession of their records has the right to contest their destruction. A person is required to list all of these agencies and archives so they can be notified of their petition for expunction.
While it will vary slightly based on someone's circumstance, in general, they will need to provide their:
Full name
Gender
Race
Date of birth
Driver's license or identification number
Social Security number
Home address of where they lived when they were arrested
Additional Information to Provide to Agencies
People will also be asked to provide information about their arrest, including the offense they were charged with. The date the alleged offense was committed, the date and location of their arrest, and the arresting agency.
This information indicates who the person is, when and where the arrest took place, and where any records of their arrest might be so they can be found and destroyed once expunction is approved.
For this reason, they will also need to provide their case number and court, as well as a comprehensive list of the names of people, agencies, and archives that would have these records. Provide physical addresses and contact information for these agencies. An individual can find an updated list of these agencies and archives through the Department of Public Safety.
Value of Working With an Attorney
An expunction attorney can inform you of the general information you must be prepared to supply for your expunction petition. Where you file your petition, when you file your petition, and what happens next varies. Based on the circumstances of your expunction and the kind of expunction you seek. If you want to begin the Texas expunction procedure, consult an experienced lawyer that can advocate for you.