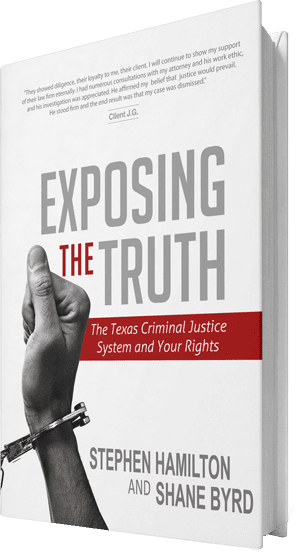 Get Your FREE Copy of the Book by Stephen Hamilton
Exposing the Truth
Secrets of the Texas Criminal Justice System and Your Rights
If you have been arrested but not charged with a crime, you should look into expunction. Expunction refers to the erasing of a person's record. There are different types of expunctions in Texas, and consulting a knowledgeable expunction lawyer is the best way to find the type of expunction that is right for you. If you want to know more about the expunction process, consult a qualified expunction lawyer that can explain which options are available to you.
Standard Expunction Procedure
A standard expunction procedure means that a person did not receive an acquittal or pardon. And they were not charged or convicted as a result of identity theft. Chances are, the person was arrested but never charged, or charged but never convicted. For this reason, they are not under the time crunch that other types of expunctions in Texas incur. It goes without saying, however, that the sooner a person can get their records expunged. The better it is for them.
Work with your lawyer to get your petition filled out with all the necessary information, evidence, and documentation. Never file an incomplete petition! This is a waste of time and opportunity. Make sure you have all the required information before you file.
There is no reason to rush with a standard expunction procedure. The only deadline is what a person sets for themselves. Once their petition is ready, they can either file it in a district court in the county where the crime allegedly took place. Or in a district court in the county where a person was arrested.
Expunction for Acquittal or Pardon
Another one of the types of expunctions in Texas is expunction for acquittal or pardon. If the person was convicted and then acquitted in a court of appeals. They need to hustle to get their expunction petition filed. The person must file their petition with the trial court that acquitted them or in another court in that same district within 30 days of their acquittal or they will have to pay filing fees.
A similar procedure applies for defendants who receive a post-conviction pardon on the basis of actual innocence. The person has 30 days to file their expunction petition with the trial court that granted them this pardon, or another court in that district. Otherwise, they will be subject to fees.
Discretionary Expunction or Dismissal
For discretionary expunction or dismissal, a person must file their petition in a district court in either the county where they were arrested or in the county where the alleged crime took place.
In both discretionary expunctions and expunctions because of dismissal of charges. Every agency that is listed on their petition must be served notice of their expunction petition at least 30 days before their hearing is scheduled to occur. This means they have time to oppose expunction if they so choose. If an individual wants to know more about the different types of expunction in Texas, a person should consult their attorney. A skilled lawyer can defend an individual's rights.
180 Days
Six months after a person's expunction or non-disclosure order goes into effect, their record should be clean. While some agencies and administrative bodies will still be able to access a person's files if their expunction is subject to exceptions or if theirs is a non-disclosure order, the individual can take comfort in the fact that employers, colleges, landlords, blind dates, and nearly anyone else who might have reason to run a background check on them will come up with nothing regarding their sealed or destroyed records.
Nothing completely erases the past, admittedly. These procedures will not completely delete every blip on someone's record or seal off any indication that they had a brush with the criminal justice system. However, these procedures work to keep a person's criminal history from being publicly accessible. These procedures have helped countless defendants gain a fresh start. With a record that is clean, for all intents and purposes.
Value of Working With an Expunction Lawyer
An arrest is stressful, and dealing with charges and deferred adjudication certainly makes life harder. However, this will pass, and with a solid strategy and a skilled lawyer. You can feel confident about closing this chapter of your life and being able to walk away, a better person.
You can walk away without the social stigmas of a criminal record and start all over again, with a clean slate. If expunction or non-disclosure is an option for you, explore them with your lawyer. The sooner you talk to a lawyer that is well versed in different types of expunction, about your situation, the sooner they can attempt to achieve the best possible outcome for you.