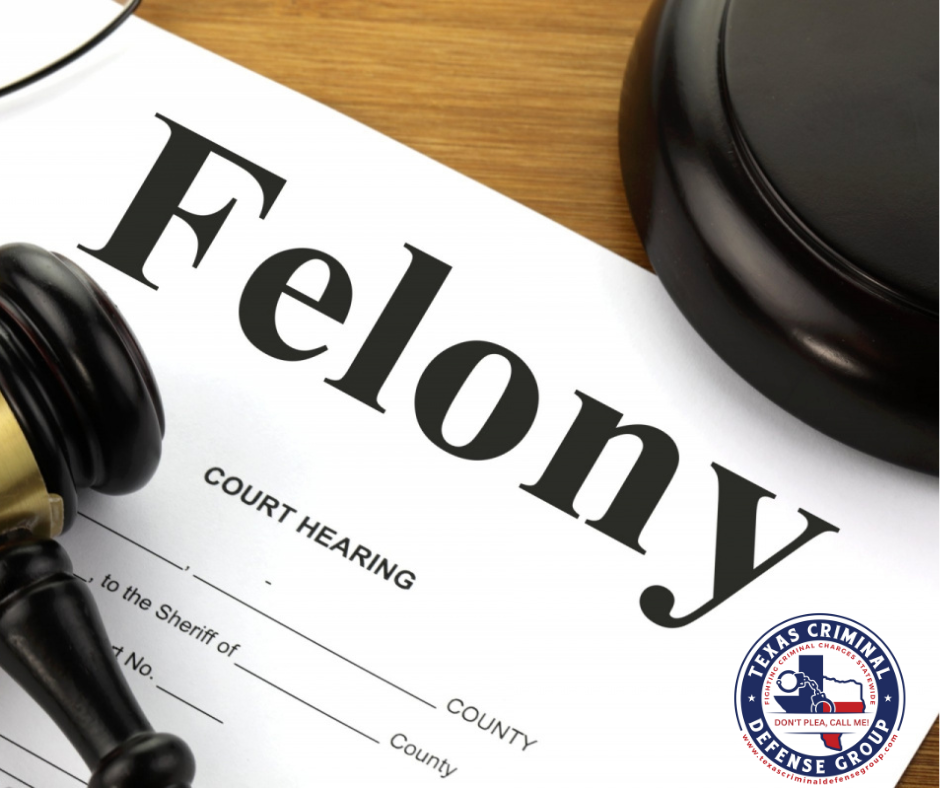 Felony in Texas: Classes & Penalties
A felony in Texas is a serious crime that can lead to imprisonment for over a year. Felonies are more severe than misdemeanors, which result in smaller punishments like fines or short stays in local jails. Citizens in a grand jury review felony cases to determine if there is sufficient probable cause to proceed with the case.
When trying to understand felonies in Texas, it's important to know how they are grouped and the punishments they bring. Felonies are major crimes with big penalties, and Texas sorts them into classes based on how bad they are. These classes show how serious the crimes are and what kind of punishment they can bring.
Classes and Penalties of Felony in Texas
The least severe felony category in Texas. The penalty involves confinement in a state jail facility for 180 days to 2 years and a fine of up to $10,000.
Example:
Stealing things worth $1,500 to $20,000
Stealing a gun
Wrongly using someone's credit or debit cards
Having a small amount (less than one gram) of a strong drug listed as Schedule 1
Convictions may lead to imprisonment for 2 to 10 years and a fine of up to $10,000.
Example:
Stealing things worth $30,000 to $150,000
Shooting from a vehicle, no one gets hurt
Having 5 to 50 pounds of marijuana
Having between 1 and 4 grams of a strong drug listed as Schedule 1
Those convicted face imprisonment for 2 to 20 years in jail and a fine of up to $10,000.
Example:
Stealing things valued from $150,000 to $300,000
Serious attack
Breaking into someone's home
Harming a child carelessly
Causing severe harm to a family member
Having 4 to 200 grams of a strong drug listed as Schedule 1
Convictions for first-degree felonies can result in prison sentences ranging from 5 to 99 years or life and a fine of up to $10,000.
Example:
Stealing things worth $300,000 or more
Serious sexual assault
Robbery with a serious threat
Sexual assault involving a child
Having over 2,000 pounds of marijuana
Having between 200 to 400 grams of a strong drug listed as Schedule 1
Convictions for capital felonies represent the gravest criminal offenses, potentially resulting in the severest penalties, such as the death penalty or life prison sentences without the possibility of parole.
Example:
Capital murder
Killing with specific reasons (like on purpose, linked to another crime, using deadly weapons, of a cop, or a repeated act)
Spying for another country
Betraying one's own nation
Causing death by taking over an aircraft
Committing mass murder
Enhanced Penalties with Multiple Felonies in Texas
In line with Texas Penal Code § 12.42, individuals labeled as habitual offenders can face heightened sentencing for recurring felonies.
This elevates the punishment for a second or subsequent felony offense to the succeeding felony class. For instance, if someone faces a trial for a third-degree felony and has a previous felony conviction (except for a state jail felony), the penalty will be that of a second-degree felony.
Similarly, a second-degree felony with a prior felony conviction will incur the punishment of a first-degree felony. Moreover, if someone is charged with a first-degree felony and holds a prior felony conviction (excluding a state jail felony), the punishment ranges from a minimum of 15 years to a maximum of 99 years in prison or life imprisonment.
Collateral Consequences
The degree of felony charge can last long after the sentence is done. Having a criminal history of felony makes it difficult to get a job, pursue education, or find housing. In Texas, having a felony might stop you from:
Obtaining licenses for specific occupations.
Qualifying for government programs.
Accessing scholarships and educational financial aid
Receiving government benefits.
Through the possession of firearms and weaponry.
Participating in the exercise of voting rights.
Pursuing public office positions
Taking part in jury service.
While this guide gives a basic idea of how Texas law groups certain crimes and decides the right punishment, remember that the punishment mentioned in the rules might change because of other considerations in a specific case.
Judges look at different things when deciding a punishment, like:
If the person did this crime for the first time or did it before
If they were the main ones who did it or just helped
If they did the crime because they were really stressed or forced to
If someone got hurt, and if the way they did the crime wasn't likely to hurt anyone
If they were really mean to the person they hurt, or if they caused a lot of damage
If they seem really sorry about what they did
Arrested? Don't Plea, Call Me!
A skilled criminal defense lawyer in Texas knows how important it is when you're facing a serious felony offense in Texas. Your attorney can create a strong defense that increases your chances of a good result, like not getting a felony record and staying away from jail.
Being an experienced criminal defense attorney, we can look at what happened in your case. We'll check the charges against you and make a smart plan to defend you. We will also engage in discussions with the opposing party and advocate for your rights and requirements when we are in the courtroom.
Contact Us for a Free Consultation