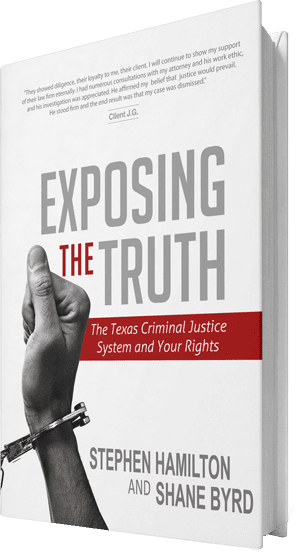 Get Your FREE Copy of the Book by Stephen Hamilton
Exposing the Truth
Secrets of the Texas Criminal Justice System and Your Rights
Go the Extra Mile
At Texas Criminal Defense Group, we understand the gravity of the situations our clients face and we go the extra mile to ensure your rights are protected. We leave no stone unturned in building a robust defense strategy. From investigating the case to gathering evidence, interviewing witnesses, and analyzing every aspect of the prosecution's case, we leave no room for oversight. We understand the nuances of the law and leverage our expertise to identify potential weaknesses or inconsistencies in the prosecution's argument.
We go beyond the courtroom and offer guidance, reassurance, and emotional support throughout the legal process. We understand the stress and anxiety our clients experience and work tirelessly to alleviate their concerns. Whether it's explaining legal procedures, addressing questions, or preparing clients for trial, we ensure that our clients are well-informed and empowered every step of the way. By going the extra mile, we demonstrate our commitment to achieving the best possible outcome for our clients and upholding justice.
Results, Period
Why should you consider hiring Texas Criminal Defense Group? Because we believe that winning is not just important, but the ultimate goal. When it comes to your case, achieving victory is the sole focus, and if you choose to hire our services, it becomes our utmost responsibility to deliver the desired results to you.
People over Process Always
Here at Texas Criminal Defense Group, our commitment is to provide 5-Star Service, and the abundance of success stories is a testament to our dedication. Our team of attorneys is passionate about advocating for our clients and ensuring their rights are protected. We go above and beyond to deliver exceptional representation, tailored to each individual case. From the initial consultation to the final resolution, we prioritize clear communication, responsiveness, and personalized attention. Our attorneys possess extensive legal knowledge, courtroom expertise, and a track record of achieving favorable outcomes for our clients. With a client-centered approach, we strive to exceed expectations and provide the highest level of service throughout the entire legal process.
Never-Ending Improvement
Texas Criminal Defense Group is constantly engaged in a process of never-ending improvement to enhance our services and stay at the forefront of legal advocacy. We understand that the legal landscape is dynamic, with evolving laws, precedents, and strategies. As a result, these Texas Criminal Defense Group actively invests in continuous learning and professional development. We engage in rigorous research, attend seminars, and collaborate with other experts to deepen our understanding of criminal law and trial techniques. By staying updated with the latest developments, we can provide innovative and effective defense strategies for our clients.
Success Stories Daily
Texas Criminal Defense Group stands out from the crowd as our success stories speak for themselves. Our unwavering dedication to excellence drives us to continuously exceed all of our clients' expectations. We firmly believe that our track record of achieving favorable outcomes in a wide range of criminal cases speaks volumes about our expertise, commitment, and relentless pursuit of justice. By going above and beyond for our clients, we have established a reputation for providing exceptional legal representation and delivering results that truly make a difference. When you choose Texas Criminal Defense Group, you can trust that we will go the extra mile to protect your rights and achieve the best possible outcome for your case.