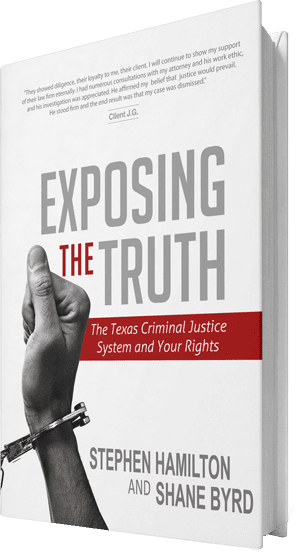 Get Your FREE Copy of the Book by Stephen Hamilton
Exposing the Truth
Secrets of the Texas Criminal Justice System and Your Rights
Facing criminal charges could dramatically alter your life. After facing charges, you could lose your job, be ineligible for certain careers, and see changes to your personal and family relationships. During this stressful time, a Fort Worth criminal lawyer may be able to help guide you through criminal proceedings to help protect you and your future.
An experienced defense lawyer has the knowledge necessary to help you develop a strong defense. Though facing criminal charges can be frightening, from the moment you are arrested. A strong legal advocate could stand by your side.
Protecting the Rights of the Accused
Individuals facing charges have specific rights that can help protect them during criminal proceedings. These include the right to be represented by legal counsel, freedom from unreasonable search and seizure, and freedom from self-incrimination. Immediately following an arrest, a Fort Worth criminal attorney may help uphold these rights by:
Identifying unlawful search and seizure
Advising during the interrogation process
Discovering potential violations of due process rights
Ensuring that individuals are fairly treated throughout criminal proceedings
Consulting a Fort Worth criminal attorney could be instrumental in protecting a charged person's rights during court proceedings. Many individuals choose to retain legal assistance from the outset of a criminal case for this reason.
Preparing to Meet with a Criminal Attorney
Regardless of a person's familiarity with the criminal justice system, there are certain actions anyone facing charges may wish to take before meeting with a Fort Worth criminal lawyer. Individuals may wish to locate copies of any paperwork related to their criminal charges. Such as police reports and booking information.
It may also be beneficial to collect the names and contact information of any witnesses who could provide evidence or testimony. An attorney may use this information to begin building a strong defense or investigate criminal charges.
Finally, an attorney could help charged people prepare a written statement detailing the events of an arrest, including everything that occurred directly before and immediately following the alleged criminal action. Disclosing all information regarding criminal charges could be crucial to allowing a criminal lawyer to understand a situation and work towards a positive outcome.
Legal Process in Fort Worth
After seeking advice from a criminal attorney, individuals facing charges should familiarize themselves with the process of a criminal trial. After being arrested and arraigned, those facing charges could be held on criminal charges or released on bail.
The court will then schedule a court date. The accused may be asked to appear in court before the trial officially commences. In these cases, a criminal attorney in Fort Worth could help detail a defendant's role in proceedings and provide copies of relevant court documents. Finally, during the trial, a Fort Worth lawyer could present evidence and build a strong argument on behalf of the defendant.
Talk to a Fort Worth Criminal Attorney Today
Any criminal charges are extremely stressful, but a Fort Worth criminal lawyer may be able to help guide you through this difficult situation. From the initial arrest to sentencing. A criminal defense attorney could help represent your interests and defend you against accusations of wrongdoing.
By contacting a criminal attorney in Fort Worth, you could receive answers to questions about the criminal justice process and determine what the decisions to help protect you and your family. Reach out today to schedule an initial meeting and begin the process of protecting yourself and your rights.
For more information on this topic please reach out to our experts from the Texas Criminal Defense Group at (866) 557-4343 or through our contact page.