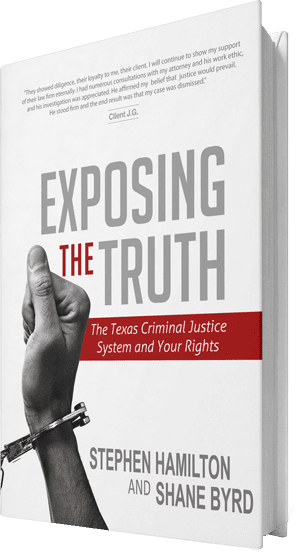 Get Your FREE Copy of the Book by Stephen Hamilton
Exposing the Truth
Secrets of the Texas Criminal Justice System and Your Rights
Lubbock Criminal Lawyers
Arrested? Don't Plea, Call Me!™
When you are arrested for committing a crime, you may be unsure where to turn first. Given the potential gravity of your circumstances, you always should take steps to secure legal advice prior to making any major decisions about your case. A Lubbock criminal defense lawyer could provide useful assistance with determining your options and developing an effective defense strategy for the charges against you.
It is important to remember that an arrest does not always mean that you will be convicted of a crime. The prosecution must present sufficient evidence to prove that you are guilty beyond a reasonable doubt. By working with a seasoned criminal defense attorney, you may have a better chance of overcoming this situation and moving forward with your life as planned.
Work to Protect Your Rights
In the criminal justice system, there are a series of rules that law enforcement officers, lawyers, and courts must follow. These rules are designed to protect the rights of those who have been accused of committing a criminal offense. In some cases, however, law enforcement make mistakes or engage in conduct that violates the rights of the accused.
An experienced and skilled criminal defense attorney in Lubbock may be able to identify any violations of constitutional rights that have occurred in criminal cases. Some common potential incidents include:
Failure to read individuals their Miranda rights upon arrest
Denial of legal counsel when requested
Execution of illegal searches and seizures
Illegal or unfair treatment while incarcerated
If police violate the rights of the accused in certain ways, courts may rule that any evidence obtained from these violations is inadmissible. For instance, if police officers illegally search a vehicle for drugs, the defense may be able to have any drugs found suppressed, or thrown out of court.
How to Prepare for a Legal Consultation
Individuals who have been charged with a crime may wish to take action immediately to protect their rights and start determining the best defense in their cases. Prior to meeting with a criminal defense attorney in Lubbock, however, some degree of preparation may be necessary. More specifically, those who are accused of a crime may want to:
Obtain a copy of the police report and court paperwork regarding any criminal charges filed by the prosecutor
Make a list of all names and contact information for anyone who is a potential witness to the alleged crime, or to events leading up to or occurring after the alleged crime was committed
Write down a description of the events that occurred prior to, during, and following the alleged criminal act
Taking these essential steps can help legal counsel better understand the incident that led to the criminal charges. This information also can provide useful background information that may aid in developing a strong defense strategy.
Collateral Consequences of Criminal Offenses in Lubbock
While many criminal convictions can result in periods of community supervision or incarceration and the payment of high fines, there are also collateral consequences that may stem from criminal convictions. In some cases, these consequences may have more practical impact than the penalties received through criminal sentencing.
For instance, a DWI, DUI, or other driving-related criminal conviction can result in a suspension of driving privileges and increase in motor vehicle insurance rates, and the convicted party may have to pay for the installation and maintenance of ignition interlock devices on their vehicle. Likewise, a conviction on a sexually-based offense can require mandatory sex offender registration and restrictions on housing, employment, and more.
Consult a Lubbock Criminal Defense Attorney for Professional Advice
Whatever the specific circumstances may be, a strong defense to any criminal charges is likely necessary to achieve a successful outcome to your case. A Lubbock criminal defense lawyer could assist you in developing a defensive strategy that is best calculated to pursue the outcome you desire.
In terms of your career, your education, your personal relationships, and your freedom, your future may depend on the resolution of your criminal case. Call today to schedule a consultation and get started on your defense.