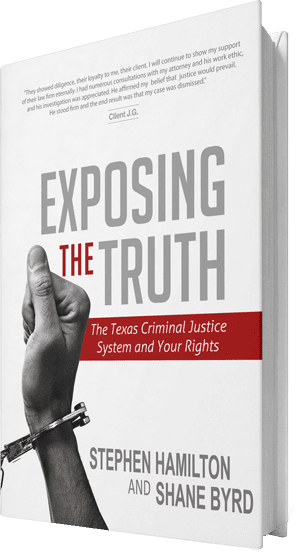 Get Your FREE Copy of the Book by Stephen Hamilton
Exposing the Truth
Secrets of the Texas Criminal Justice System and Your Rights
We are very fortunate to have formed excellent partnerships with many of our clients. And we've formed more than just working relationships with them; we have formed true friendships. Here's what they're saying about us.
"Texas Criminal Defense Group
is 100% on Your Side"
Angel Mesa (Lubbock, Texas)
"You Guys Have The Right Attorneys And The Right Team! They Will Go And Fight For You."
Abran Torres (Lubbock, Texas)
Stephen is a damn great lawyer!
I was arrested back in 2012 for a felony DWI 3rd or more with a child under 15 in the car. Boy was I scared. Stephen backed me up the whole time. He worked for me 100%. He told me to always be honest with him and I was - he was able to get my charges reduced to a misdemeanor so I don't have a felony on my record. To rate him on a scale of 1-5 isn't enough - I would give him 100 out of 5!!!! I appreciate everything he did for me I would tell anyone he's a damn great lawyer and to go see him!!!
Incredible service!
I want to take the time to thank you for your incredible service. I was provided with exceptional service the entire time by you and your staff and wanted to show my appreciation and gratitude. As you know, I was charged with DWI. I am a college student who wanted to pursue a career in medicine. You understood that a conviction would have serious consequences to my career and family and you put all your effort into making sure I was not convicted. I know the positive outcome of my case was a direct result of your hard work and dedication. You kept my goals attainable, and for that I can't thank you enough! Once again, thank you for taking the time to understand my situation and for caring about my case. I do not anticipate needing your assistance again but if someone close to me ever does, I will recommend you with the utmost confidence.
Mary is a competent, thorough attorney
Mary Moretti represented me when I was arrested in Levelland Texas by a very poor representative of the Levelland Police Department. She is a very caring competent and thorough attorney and person. Even though I live 350 miles from where she practices she was always so helpful it was just as if she was right here in my hometown. I would recommend her to anyone in any case she would care to defend someone. In fact, I would choose her over any other attorney in that area and even her office. I was very fortunate that Mary represented me. I would like to say that even though my case has been dropped on several occasions when I've contacted her she has been a very thorough and helpful and I would not sleep well if it had not been for her. My very best wishes to Mary Moretti and I thank her for representing me extremely well. No wonder why she has an excellent rating. I would give her more than five stars if I could.
Excellent Attorney!
I had a lengthy DWI case which lasted almost two years, James was always in communication with me to let me know what was going on during this process. He definitely knows the laws and reviewed my file constantly and any tapes the DA had presented for my case very thoroughly. Case was eventually dismissed before the trial started and I know James worked hard on my case for the entire period. Great, professional and respectable attorney and I always felt like I was in good hands with him. Would DEFINITELY recommend him!
Great lawyer, excellent service
I had an assault charge for domestic violence and Tommy Hull got my case dismissed without me ever having to go to court. The process was smooth and I felt much more confident the moment I hired them. They took care of all the paperwork and made it extremely easy for me to access all my files through an online profile the law firm created for me. I would definitely recommend them!
Endorsed by Bobby Mims, Federal crime Attorney
Steve Hamilton is one of the best DWI lawyers in Texas. If I get into trouble anywhere Lubbock, Texas, Steve is on my very short call list. He is an expert in the Intoxilyzer 5000 and in all issues related to Driving While Intoxicated cases. Moreover, he is active in his professional organizations, his church and community. Steve Hamilton is a first class individual and a topnotch lawyer.
Very professional, excellent attorney
I got a DUI in the Lubbock area, almost 700 miles from home, Mary took my case and guided me through all the things I had to do. I work 7 days a week and she took care of everything, I never had to go back to the area or deal with the court in person again. In the end my case was dismissed, could not have asked for a better outcome. I highly recommend Mary to represent anyone with a DUI in the Lubbock area.
Great attorney, man, and family man!
Stephen Hamilton is one of the smartest people I know and loves his job. He is willing and able to help out in any way he can at any cost and never backs down from helping his clients. He represented me and was able to get a not guilty outcome for me and became a friend in the process. He is definitely somebody to trust with serious issues such as legal problems. If I ever have any trouble again I will definitely go back. He is kind and caring and a gentle man to his clients but when in the court room he is all business. Be honest with him and he knows his work so well he will find a way. He is very patient and confident and will make you feel the same after you talk to him. Just a great attorney and all around good man.