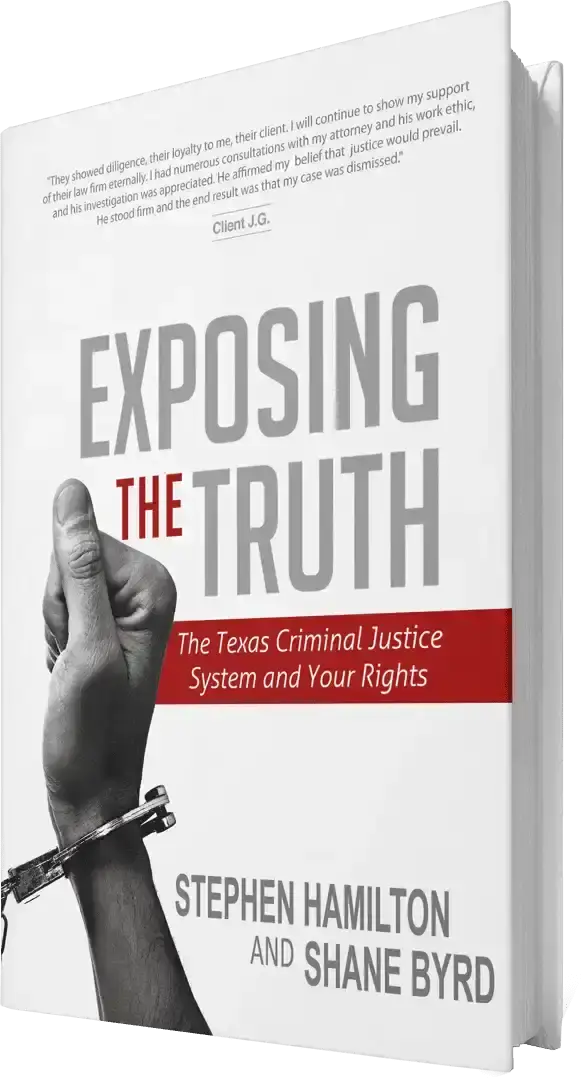 Get Your FREE Copy of the Book by Stephen Hamilton and Shane Byrd
Exposing the Truth
Secrets of the Texas Criminal Justice System and Your Rights
THE TEXAS DEFENDER
Helping Good People Through Tough Times
Contact Us for a Free Consultation
Texas Criminal and DUI Lawyers
Don't Plea, Call me!™
A criminal charge of any type has the ability to send an accused individual's life into complete upheaval. From protracted periods of incarceration, costly fines, license revocations, professional harm and damage to community standing, the implications of being convicted of a crime in Texas are things everyone should attempt to avoid.
Because the stakes are so high, it is incumbent upon those facing criminal allegations, no matter the category, to seek aggressive defense counsel as soon as possible. If you are under the inescapable stress, strain and fear known to result from the attention of police and prosecutors, you owe it to yourself to align with a West Texas criminal lawyer committed to protecting your rights and fighting for your future. Our attorneys practice statewide with offices in Amarillo, Austin, Dallas, Denton, El Paso, Fort Worth, Lubbock, Midland, and Odessa.
Criminal Offenses in Texas
A skilled Texas Criminal Defense Group attorney with experience defending charges throughout West Texas possesses significant knowledge in handling matters pursuant to a broad array of penal code provisions, including:
High Stakes for
Criminal Defendants in Texas
They say everything is bigger in Texas, and that holds true for the state's criminal justice system. Texas has some of the strictest penalties for breaking the law anywhere in the country. In a country that leads the world in both the number of people in prison and the percentage of citizens behind bars, those statistics can sound daunting.
If you are facing any kind of criminal charges, a knowledgeable Texas criminal lawyer can protect your rights and defend you tirelessly. Experienced criminal lawyers understand the ways in which prosecutors think and, therefore, can often anticipate how a prosecutor may handle a case. That knowledge allows for diligent and comprehensive preparation of a potential client's defense strategy. Call Texas Criminal Defense Group today to set up a confidential consultation with a Texas criminal attorney.
Nancy aggravated assault felony was dismissed this week. Nancy's roommate called the police claiming Nancy pulled a gun on her/pistol-whipped her. Even though there were no injuries, the police arrested Nancy and when she bonded out the roommate had stolen her jewelry and broken into her safe with a crowbar, and pawned a bunch of…
Dismissed

American Academy of Forensic Sciences