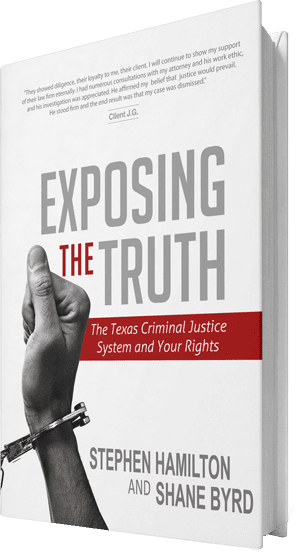 Get Your FREE Copy of the Book by Stephen Hamilton
Exposing the Truth
Secrets of the Texas Criminal Justice System and Your Rights
Facing criminal charges and prosecution for a misdemeanor or felony offense in Amarillo can be both frightening and overwhelming. If you have been charged with a criminal offense, your next step should be to contact an Amarillo criminal lawyer.
With a criminal lawyer on your side, you could have someone fighting to protect your constitutionally guaranteed rights while vigorously defending you against criminal prosecution. A skilled defense attorney could fight tirelessly for a favorable resolution to your case.
Types of Criminal Offenses in Amarillo
The Penal Code of the Texas Statutes outlines the different types of criminal offenses prohibited in Amarillo. Offenses are organized into the following general categories, with specific examples provided for each category:
Inchoate offenses — conspiracy and attempt
Offenses against the person — assault, sexual offenses, and homicide
Offenses against the family — interference with child custody and criminal nonsupport
Offenses against public administration — bribery and abuse of office
Offenses against public order and decency — disorderly conduct and public indecency
Offenses against public health, safety, and morals — DWI and weapons offenses
Organized crime — participation in a street gang
An Amarillo criminal defense attorney could explain how the Texas Penal Code applies to specific situations. A lawyer could also use their in-depth knowledge of the law to formulate a case-specific defense strategy.
Penalties for Misdemeanors
Misdemeanor offenses in Amarillo are organized into three classes. Class C misdemeanor offenses are the least serious and are not associated with incarceration for any length of time. The sanction for Class C misdemeanors is a fine no greater than $500.
Class B misdemeanors are punishable by a fine up to $2,000, up to 180 days confinement in jail, or both a fine and confinement. Class A misdemeanors are the most serious of the three classes and can be penalized by a fine up to $4,000, incarceration for up to one year, or both.
Examples of misdemeanor offenses include a first or second offense of driving while intoxicated (DWI) and theft of property valued at less than $2,500. A criminal lawyer in Amarillo could identify the exact misdemeanor class and explain the associated penalties for a specific offense.
Penalties for Felony Offenses in Amarillo
Felony offenses in Amarillo and throughout Texas are organized into several distinct categories. The different levels of felonies and their associated punishments are as follows:
State jail felonies — 180 days to two years imprisonment and a fine up to $10,000
Third-degree felonies — Two to ten years imprisonment and a fine up to $10,000
Second-degree felonies — Two to 20 years imprisonment and a fine up to $10,000
First-degree felonies — Five to 99 years imprisonment and a fine up to $10,000
Capital felonies — Life in prison without parole or the death penalty
Examples of felony offenses include theft of property with a total value of $30,000 or more, bribery of a public servant or party official, and manslaughter. A criminal defense lawyer in Amarillo could explain the felony category and punishment associated with a specific offense.
Contact an Amarillo Criminal Lawyers Today
You do not have to fight criminal charges by yourself, and it could be to your benefit to retain legal counsel. An Amarillo criminal lawyer could provide critical legal representation.
In conclusion, whether you are facing misdemeanor or felony charges, a lawyer could prepare a legal defense to the charges and fight tirelessly to protect your rights. Call now for a consultation.