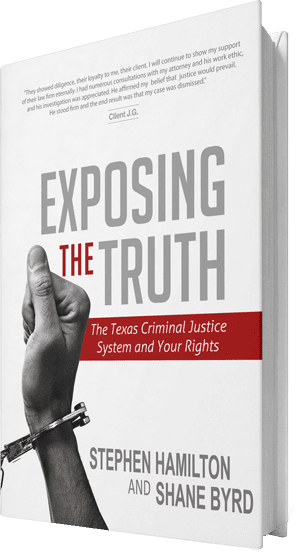 Get Your FREE Copy of the Book by Stephen Hamilton
Exposing the Truth
Secrets of the Texas Criminal Justice System and Your Rights
College students make split-second decisions that unfortunately can alter the course of their future. An arrest, even on a minor charge, and even if it does not result in a conviction. This could can trigger university student conduct proceedings and threaten a student's ability to complete their education. It is in situations like these that securing the services of a Fort Worth student defense lawyer may be crucial.
Having a clear understanding of both the criminal justice process and student conduct code violation. Proceedings can be key to successfully fighting these allegations. An experienced defense lawyer could help demystify these processes, detail your options. As well as work towards a positive resolution in both criminal and university proceedings.
College and University Student Conduct Proceedings
Although specific policies, rules, and procedures can vary among colleges and universities, it is not uncommon for criminal arrests or charges to result in automatic disciplinary actions against students. There is no presumption of innocence or rules of evidence applicable to these proceedings. As a result, students may face severe penalties, including probation, suspension, and expulsion.
As college disciplinary proceedings can have a direct impact on the future employability, licensure, and educational opportunities of a student, the advice of a Fort Worth student defense lawyer can be extremely important. Students are entitled to have a representative advise them throughout disciplinary proceedings and should strongly consider taking advantage of that.
Alcohol-Related Offenses in Fort Worth
Consumption of alcohol is hardly a rarity on college campuses. Even though students may only be 17 or 18 when they first arrive at college. Tex. Alcohol. Bev. Code §§ 106.04 – 106.05 makes it illegal for students who are under the age of 21 from possessing or consuming alcohol. The penalties for even a first violation of these offenses under Texas Penal Code §§12.22-23 can be stiff, including:
Eight to 12 community service hours
Attendance at an approved alcohol awareness class
Fines of up to $500
A second or subsequent violation of these offenses can result in increased penalties, which may include 20 to 40 hours of community service, a fine ranging from $250 to $2,000, and a jail sentence of up to 180 days. For a college student, these penalties are not inconsequential. Plus, any criminal penalties are in addition to repercussions from any student disciplinary proceedings.
Other alcohol-related offenses for which college students may face charges include using a fake ID, providing alcohol to minors (for students over age 21), public intoxication, and DWI. Drunk driving charges, in particular, can be very problematic, as the loss of driving privileges can make it difficult for college students to get to their classes or jobs.
Common Offenses for College Students
A night out on the town, particularly if alcohol or drugs are involved, can lead to a range of other criminal charges, depending on the situation. These offenses might include:
Assault
Shoplifting
Drug possession
Resisting arrest
A criminal record may directly affect the ability of students to pursue certain occupations, gain admission to graduate or professional schools, and obtain federal financial aid.
Learn More From a Fort Worth Student Defense Lawyer
Attending college is never easy, even for the most diligent of students. When criminal charges and student disciplinary proceedings arise, you may think that furthering your education has become impossible. In these types of cases, a Fort Worth student defense lawyer can help.
An experienced lawyer may be able to explain your options, address your concerns. And help you settle upon the defense strategy that is best for you. Having a legal advocate on your side during both criminal and student disciplinary proceedings may be key to a positive outcome. In conclusion, Call now to learn more.