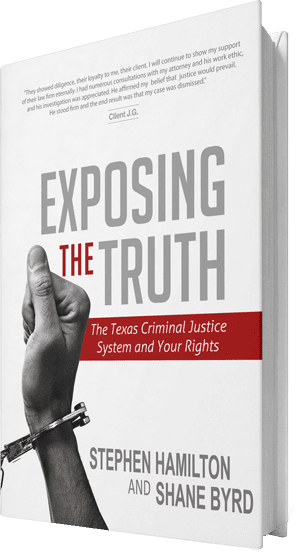 Get Your FREE Copy of the Book by Stephen Hamilton
Exposing the Truth
Secrets of the Texas Criminal Justice System and Your Rights
College life is usually a time of learning, transition, and growth. As such, it is only natural that students sometimes make mistakes during this period of their life. When those mistakes lead to trouble with the law. However, the consequences can be serious because a criminal charge can affect their academic life. A student defense conviction lead to the revocation of various privileges, suspension, or even expulsion.
If you are a college student and are facing charges, you may benefit from a Houston student defense attorney. An attorney could represent you both in front of your school's disciplinary board and a court of law.
In these situations, a knowledgeable criminal defense attorney could help you reduce the effects of a charge or conviction on your future. Call today to learn more about your rights and the potential outcomes of your case.
Preparing for Student Disciplinary Hearings
Certain types of accusations or criminal charges may require a student to defend themselves in front of a student disciplinary board in addition to a court of law. This board may determine whether a student will be permitted to live on campus. Placed on some probationary status, or even expelled from the institution.
The standards for reviewing evidence and conducting due process at disciplinary hearings may be very different from those required at legal proceedings. A Houston student defense lawyer could use their knowledge and understanding of these hearings to preserve a student's standing at a college or university.
Sometimes the school may require a student to attend such a hearing, even if no criminal charges have been brought against that student. This could be the case even if no probable cause exists to charge that student with a violation of the law.
In these situations, a student defense attorney in Houston could apply legal strategies to help the student gather evidence, prepare a robust testimony based on the facts of the case, and negotiate for a less severe punishment if found guilty.
Common Student Defense Offenses on Campus
Charges which are common on and around college and university campuses include:
Possession of controlled substances
Protest-related activities
Underage drinking
Sexual misconduct
Domestic violence between dating partners
Assault
A college student facing any of these charges may benefit from the advice of a defense attorney in Houston who is sensitive to the particular issues of that students face.
Call a Houston Student Defense Attorney Today
A conviction, whether in a court of law or at a school's disciplinary hearing. Can cause a student to be expelled from a university or make it difficult for them to pursue career. Or further educational opportunities following graduation.
When a student faces accusations before a disciplinary board at their institution. The board may not afford the same constitutional protections of a court of law. It may, therefore, be essential to work with a Houston student defense lawyer to vouch for your rights to due process and proper review of the evidence.
While the potential repercussions from your case may seem devastating, there may be strong defenses available to you. If you are a university student and were charged with any sort of offense, call a skilled lawyer in Houston as soon as possible after being accused.