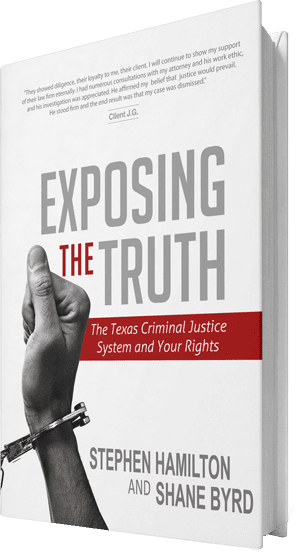 Get Your FREE Copy of the Book by Stephen Hamilton
Exposing the Truth
Secrets of the Texas Criminal Justice System and Your Rights
A counterfeit controlled substance is controlled substance offenses in Lubbock. That has been manufactured without authorization and that is made to look genuine by placing a trademark, trade name, or other identifying mark on:
A container holding the drug;
A label affixed to the drug;
The drug itself, by engraving or imprinting it onto the drug.
A counterfeit controlled substance differs from a simulated controlled substance, which is not a drug at all but has been made to look like one.
Crimes Involving Counterfeit Substances
It is a crime to do any of the following:
Manufacture a counterfeit substance;
Deliver a counterfeit controlled substance;
Possess a counterfeit controlled substance with intent to deliver it;
Manufacture, possess, or deliver a device that is used to manufacture counterfeit controlled substances.
Penalty for Counterfeit Substance Crimes
Counterfeit substance offenses in Lubbock are a Class A misdemeanor. Punishable by a maximum jail sentence of 1 year and/or a fine.
If you have been charged with a counterfeit substance offenses in Lubbock, call Texas Criminal Defense Group to discuss your case with an experienced lawyer.