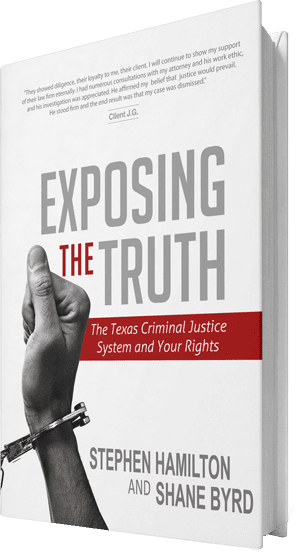 Get Your FREE Copy of the Book by Stephen Hamilton
Exposing the Truth
Secrets of the Texas Criminal Justice System and Your Rights
Fraud occurs when individuals or businesses deceive or make factual misrepresentations to obtain money or items of value from others. If law enforcement authorities are investigating or accusing you of fraud, you should consider consulting a Dallas fraud lawyer for advice.
Fraud charges can carry stiff penalties including prison sentences, high fines, and restitution to the alleged victims. An experienced criminal defense attorney could examine the facts of your case and craft a strong defense strategy based on the circumstances.
Examples of Fraud Crimes
Authorities aggressively investigate and prosecute various white-collar crimes. Since penalties for fraud offenses may be exceedingly harsh, individuals facing these allegations should consider contacting a fraud lawyer in Dallas for help.
Bank and Check Fraud
One common type of fraud offense that often leads to prosecution is bank and check fraud. Under 18 United States Code § 1344, bank fraud occurs whenever anyone intentionally carries out or tries to carry out a scheme to defraud a financial institution of any money or other property that it owns. Technological advances have made bank and check fraud offenses more common.
Check fraud could occur by stealing checks belonging to others, forging checks or signatures, or check kiting. Identity theft is also a common source of bank fraud, which usually involves using the identities of others to obtain money, loans, or credit.
Mail and Wire Fraud
18 U.S.C. § 1341 and § 1343 are the federal code sections governing mail and wire fraud, respectively. Due to the broad definition of a communication device, virtually any fraud offense in which individuals use cell phones, email, mail, fax machines, or the Internet can result in mail or wire fraud charges. These charges are in addition to those of the underlying criminal offenses.
If convicted, individuals could face up to 20 years in prison and hundreds of thousands of dollars in fines. Because these penalties can be harsh, individuals accused of mail or wire fraud may wish to call a Dallas fraud attorney for legal assistance.
Potential Penalties Upon Conviction
Under the sentencing guidelines, the penalties for fraud can be exceedingly harsh. A conviction could lead to many years in prison, hefty fines, and restitution. Some fraud statutes also carry the potential for treble damages, or three times the amount of the actual damages.
Prior criminal history, the extent of the fraud scheme, the number of persons affected, and the amount of money misappropriated are all factors in fraud sentencing. The position of the accused individual and the longevity of the fraud scheme can also affect the ultimate sentence for a fraud offense under federal law.
Contact a Dallas Fraud Attorney for Legal Advice
In many circumstances, you may become aware of authorities investigating you before they ever seek an indictment. With the help of a Dallas fraud lawyer, you may be able to lessen the blow of these charges and work toward an acceptable resolution of the case against you.
The penalties for white-collar crimes have risen in recent years, as the government devotes significant resources to combating various types of fraud. You should take steps right away to protect yourself and begin the process of building a defense.