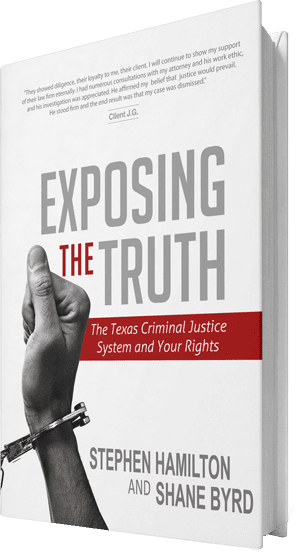 Get Your FREE Copy of the Book by Stephen Hamilton
Exposing the Truth
Secrets of the Texas Criminal Justice System and Your Rights
Felony charges are extremely serious and can have heavy consequences for the rest of your life. If you're facing a felony charge, you need a lawyer who has experience in felony law to help you. Texas Criminal Defense Group has years of experience in this facet of law, so when you need a felony law attorney in the Lubbock, TX, area, give us a call.
What Constitutes a Felony?
Only the most serious crimes are classified as a felony, such as aggravated assault, arson, domestic violence, drug-related crimes, certain DUI cases, manslaughter, homicide, and rape. However, not all of these are always felonies. DWI cases, for example, normally need to include intoxicated manslaughter or assault to count as a felony.
What Are the Consequences of a Felony?
When you're convicted of a felony, you'll more than likely face large fines and jail times. Convicted felons also cannot vote or hold a public office, can't own firearms, may lose their professional licenses, and have the felony on their records for a long time, which can affect future job opportunities. Each conviction and crime is different, so the sentences will be different as well.
Why Hire a Felony Law Attorney From Texas Criminal Defense Group?
The stakes are extremely high when it comes to a felony case. In order to best protect yourself, you need an aggressive defense. Texas Criminal Defense Group has over 100 years of experience in criminal law. Our only goal is to create the best defense to help our clients get the best outcome possible. We love helping our clients.
We have 2 attorneys that are board-certified in criminal law in our offices. Only 1% of all lawyers in Texas are Board Certified by the Texas Board of Legal Specialization and our office has 2 of them. Collectively we have over 650 jury trials under our belts, so you can trust us with your defense.
Don't attempt to fight a felony conviction yourself; the stakes are too great for that. Call Texas Criminal Defense Group at (866) 557-4343 for a free consultation today.