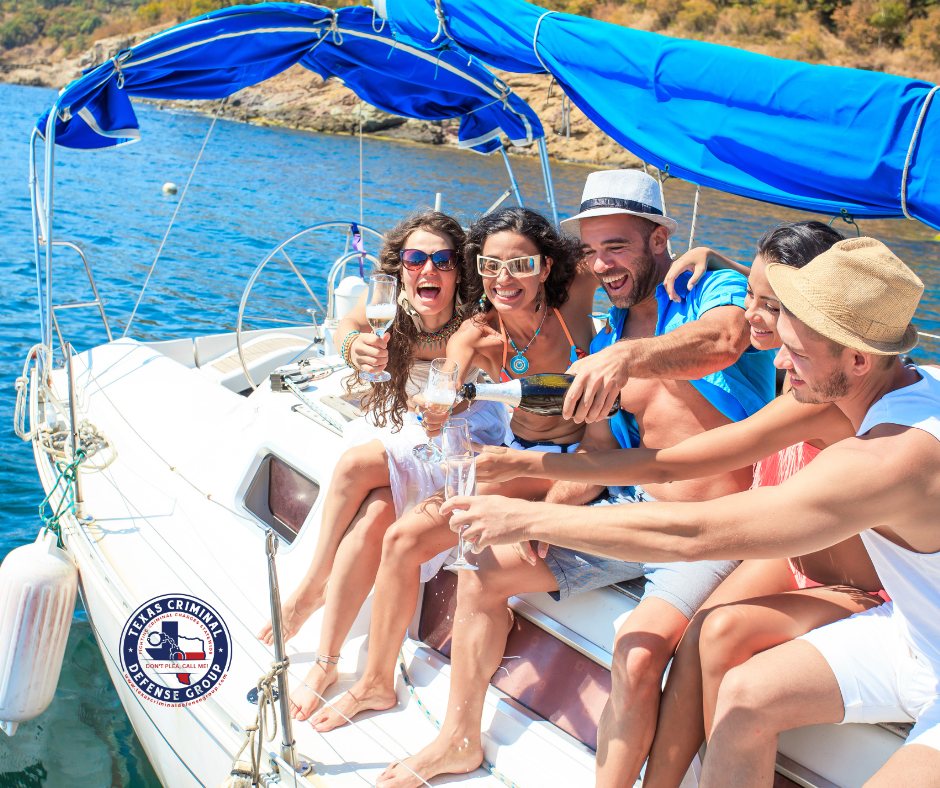 Drinking and Boating in Texas
Summer is here more and more Texans are heading to lakes and rivers. They are enjoying the warmth of the sun and looking for excitement in the water. It is important to know that Texas has laws about how to behave while boating.
It is essential to understand these laws and follow them. Familiarize yourself with boating regulations. This will ensure a safe and enjoyable experience. It will also make sure you follow the legal requirements of the state.
Boating Operation Requirements
In Texas, there are boat operation requirements that you should be aware of. This will ensure a safe and lawful boating experience. These requirements include:
Boater Education If you were born on or after September 1, 1993. You must take a boater education course approved by the Texas Parks and Wildlife Department (TPWD). This is required to operate a vessel with a motor of 15 horsepower or more. However, it is recommended for all boaters to take a boater education course, regardless of age.
Operator Age Restrictions. To operate a personal watercraft (PWC) or a motorboat with a motor over 15 horsepower, individuals must be at least 13 years old. For individuals between 13 and 17 years of age, they must complete a boater education course to operate a vessel with a motor of 15 horsepower or more, or to operate a PWC.
Safety Equipment: Every vessel must have the required safety equipment on board, including personal flotation devices (life jackets) for each person, a throwable flotation device, a fire extinguisher (for certain types of boats), visual distress signals (for boats over 16 feet), and a sounding device such as a horn or whistle.
Intoxication Laws: It is illegal to operate a boat while under the influence of alcohol or drugs. The legal blood alcohol concentration (BAC) limit for boating in Texas is 0.08%.
Navigation Rules: Boaters must follow navigation rules, such as maintaining a safe speed, avoiding reckless or negligent operation, yielding right-of-way, and operating at a safe distance from other vessels, people, and property.
Registration and Titling: All motorized boats and PWCs must be registered and titled with the TPWD. The registration numbers must be displayed correctly on the vessel.
Marine Sanitation Devices: Vessels with an installed toilet must have an operable marine sanitation device (MSD) that complies with TPWD regulations to prevent the discharge of sewage into Texas waters.
What is a BWI (Boating While Intoxicated)
Boating While Intoxicated (BWI) refers to the act of operating a boat or watercraft while under the influence of alcohol or drugs. Boating while intoxicated (BWI) is a serious offense, just like driving under the influence (DUI) or driving while intoxicated (DWI). This poses significant risks to the safety of the operator, passengers, and other people on the water.
In Texas, the legal blood alcohol concentration (BAC) limit for boating is 0.08%. Operating a boat with a BAC level equal to or higher than this limit is illegal. It's important to note that even a lower BAC can impair boating skills and put lives at risk.
Law enforcement officers in Texas have the authority to stop and board any vessel. Their purpose is to check for compliance with boating safety regulations. They may also conduct sobriety tests to determine if the operator is impaired.
Boaters operating under the influence may face severe penalties. These penalties include fines, suspension of boating privileges, mandatory boater education courses and even imprisonment. The severity of the penalty depends on the circumstances and prior offenses.
How Do You Get Charged With a BWI?
To get charged with Boating While Intoxicated (BWI). Also known as Boating Under the Influence (BUI), several factors are taken into consideration by law enforcement officers. Here's a general overview of the process:
Suspicion of Impairment: A law enforcement officer may initiate a BWI investigation if they have reasonable suspicion that the boat operator is impaired. This suspicion can arise from observing erratic or unsafe boating behavior, violations of navigation rules, or other indicators of potential impairment.
Field Sobriety Tests: If the officer suspects impairment, they may conduct field sobriety tests on the boat to assess the operator's coordination, balance, and cognitive abilities. These tests often include tasks such as walking in a straight line, standing on one leg, or following an object with their eyes.
Breath or Blood Testing: In many jurisdictions, including Texas, boaters are subject to implied consent laws, meaning that by operating a boat, they have already given consent to breath or blood testing if requested by law enforcement. The officer may ask the operator to take a breathalyzer test or submit to a blood test to determine their blood alcohol concentration (BAC) level.
Evidence Collection: The officer may collect additional evidence during the investigation, such as statements from witnesses, video recordings, or other pertinent information that supports the suspicion of impairment.
Arrest and Charging: If the officer has sufficient evidence to believe that the operator is boating while intoxicated, they may place the individual under arrest and charge them with BWI. The specific charges and penalties may vary depending on the jurisdiction and any prior offenses.
Penalties of a BWI in Texas
In Texas, a conviction for Boating While Intoxicated (BWI) carries various penalties and consequences. The specific penalties may depend on the circumstances of the offense and any prior convictions. Here are some common penalties associated with a BWI conviction in Texas:
Fines: A first-time BWI offense in Texas can result in a fine of up to $2,000. For subsequent offenses, the fines increase significantly, with a second offense carrying a fine of up to $4,000 and a third offense carrying a fine of up to $10,000.
Jail Time: A BWI conviction in Texas can lead to jail time. A first-time offense can result in a jail term of up to 180 days. Subsequent offenses carry harsher penalties. With a second offense potentially leading to a jail term of up to one year and a third offense categorized as a third-degree felony, punishable by 2 to 10 years in prison.
Boating Privilege Suspension: A BWI conviction in Texas can result in the suspension of boating privileges. For a first-time offense, the suspension period is typically 180 days. Subsequent offenses may lead to longer suspension periods or even permanent revocation of boating privileges.
Driver's License Suspension: In Texas, a BWI conviction can also result in the suspension of your driver's license. Even though the offense occurred on the water. The length of the suspension depends on the number of prior BWI or driving while intoxicated (DWI) offenses.
Probation: In some cases, a BWI conviction in Texas may include a period of probation. During which you must comply with certain conditions and restrictions. Violating the terms of probation can lead to additional penalties and consequences.
Ignition Interlock Device: For repeat BWI offenders. Texas law may require the installation of an ignition interlock device (IID) in any vehicle they operate. The IID measures blood alcohol concentration (BAC) and prevents the vehicle from starting if the driver's BAC exceeds the programmed limit.
Boater Education Course: Depending on the circumstances of the BWI offense. Texas may require completion of a boater education course as part of the penalties. This course provides education on safe boating practices and may be mandatory for reinstating boating privileges.
Arrested? Don't Plea, Call Me!
If you are facing BWI charges, it is highly recommended that you seek the assistance of an experienced criminal defense lawyer. A criminal defense lawyer can provide you with essential legal advice, guidance, and representation throughout the legal process.
As an experienced criminal defense attorney we can review the facts of your criminal case, investigate the charges against you. And develop a strong defense strategy tailored to your specific situation. As well as negotiate with the prosecution on your behalf and advocate for your rights and interests in court.
Contact Us for a Free Consultation