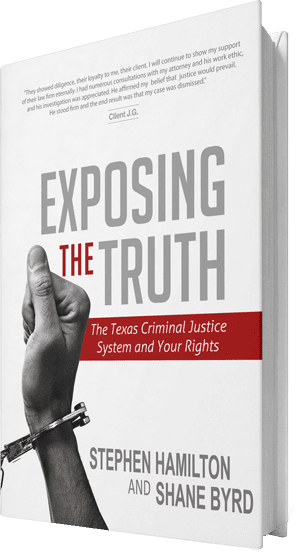 Get Your FREE Copy of the Book by Stephen Hamilton
Exposing the Truth
Secrets of the Texas Criminal Justice System and Your Rights
Texas has a well-earned reputation for taking drug crimes seriously. Although crime rates peaked more than a decade ago, prison populations in Texas continue to climb. Largely fueled by the zero-tolerance attitude that politicians have taken to controlled substance offenses. Even the sale of marijuana carries the potential for a life sentence in Texas.
For these reasons, if you are arrested in Texas for an offense involving marijuana or any other drug, you need an experienced Lubbock drug lawyer on your side. To speak to a lawyer at one of our convenient offices, call an experienced defense attorney from Texas Criminal Defense Group today.
Drugs Leading to Criminal Charges
In addition to crimes involving marijuana, Texas takes a tough approach to all drug offenses, including crimes involving:
Powder cocaine
Crack cocaine
Methamphetamine
Synthetic cannabinoids (Spice, K2, and similar drugs)
Ecstasy
Heroin
Oxycodone
LSD
All other illicit drugs
Types of Drug Charges
Furthermore, drug attorneys in Lubbock have years of experience fighting the government on behalf of our clients. We provide a skilled and aggressive defense against Texas drug prosecutions. Our drug defense lawyers represent individuals charged with:
Delivery of a controlled substance
Possession of a controlled substance
Manufacturing drugs, including methamphetamine
Marijuana possession
Maintaining a meth lab
Possession of drug paraphernalia
Prescription fraud
If you are arrested or prosecuted in Lubbock, Texas for any federal drug crime, be sure to review our Federal Drug Offenses page.
Potential Penalties
As drug lawyers in Lubbock, we see the impact of the drug war in Texas every day. We know how frightening a drug arrest and prosecution can be, particularly if you are facing a minimum sentence. We share your concern about the consequences that a drug conviction could have on your life, including incarceration and other penalties.
Drug convictions can bar you from holding certain kinds of employment or licenses and can pose serious obstacles to your future plans. The conviction of even a relatively minor crime, like possession of drug paraphernalia, will show up on your criminal record for the rest of your life.
Importance of An Lubbock Drug Attorney
The Lubbock drug attorneys at Texas Criminal Defense Group have earned a reputation for excellence by helping hundreds of clients resolve criminal charges involving marijuana, Spice, cocaine, methamphetamine, and other illicit drugs in Texas.
We know when to take a case to trial and when to negotiate. Our attorneys know how to plan a solid defense that includes challenging arrests and searches, undermining the credibility of prosecution witnesses, and exposing lies told by drug agents. We understand the importance of a thorough investigation and of diligent defense preparation that leaves no stone unturned.
Our attorneys are committed to achieving the best outcome in every case by giving the strongest possible defense to each of our clients. While we represent criminal clients all across Texas, our offices are located throughout Texas to make our firm a convenient choice for individuals charged with controlled substance offenses.