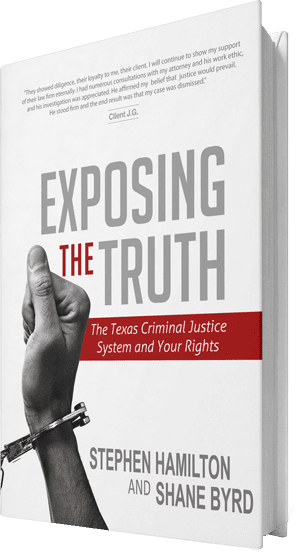 Get Your FREE Copy of the Book by Stephen Hamilton
Exposing the Truth
Secrets of the Texas Criminal Justice System and Your Rights
Our Lubbock, Amarillo, Midland/ Odessa and Abilene criminal lawyers have prepared this list of resources for website visitors. While we hope you can find the answers you are looking for on our website. If you can't, these websites may contain the answers to your DWI and narcotics trafficking questions. Texas felony questions, or Texas criminal appeals questions. Below is a list of Lubbock Criminal Resources.
Texas DWI Defense
Texas Department of Transportation: DWI Safety TipsThe Texas Department of Transportation offers safety tips for Texas drivers to control the intoxicated driving problem. This informative and clearly written site offers a full description of the penalties assessed for a drunken driving conviction.
Mothers Against Drunk DrivingThis nonprofit organization offers drunk driving statistics and provides information for avoiding DWI-related accidents or citations.
Texas Department of Public Safety: Alcohol-Related OffensesThe Texas Department of Public Safety provides information about alcohol-related offenses. This page is notable for including a description of the consequences of a DWI record for various categories of drivers.
Drug Charges in Texas
General Resources