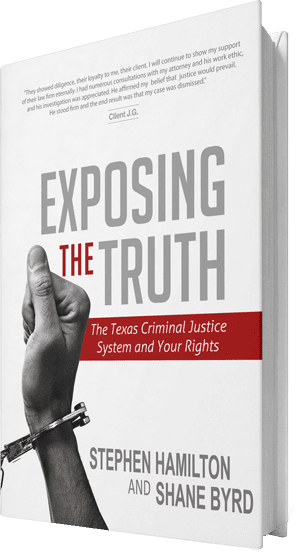 Get Your FREE Copy of the Book by Stephen Hamilton
Exposing the Truth
Secrets of the Texas Criminal Justice System and Your Rights
Whether you were arrested for DWI when you were driving a commercial truck on the clock, or even if you were arrested for DUI when you were driving your own vehicle on your off hours, you could face serious consequences. The laws that govern commercial truck drivers are strict thereby making it important that those accused consult with a Lubbock CDL DWI lawyer immediately. An experienced DUI attorney can work to build a strong defense and ensure that there was probable cause for the initial stop to take place.
Avoiding a License Suspension
In Texas, if you refuse to perform a breath test or if you fail a breath test during a DWI stop. Therefore, your commercial driver license (CDL) could be suspended.
There is a way to avoid this. To save your CDL, you need to request a hearing. But there is only a short window of time in which to act. You or your DUI CDL lawyer in Lubbock must request a hearing within 15 days of your DWI arrest in Texas. That's a very narrow time frame! You must move quickly to hire a lawyer and to get the lawyer up to speed on your situation. So that your legal representative can take the necessary steps to try to save your CDL.
Contacting An DUI Attorney
The Lubbock DUI CDL lawyers at Texas Criminal Defense Group have experience representing commercial truck drivers facing DUI charges. We help clients from Lubbock, Midland, Odessa, Abilene, Corpus Christi, McAllen, San Angelo. As well as, Amarillo, Canyon, Brownfield, Levelland, Plainview, Seminole, and Littlefield. Call us at 800-456-7838 or fill out an online form.