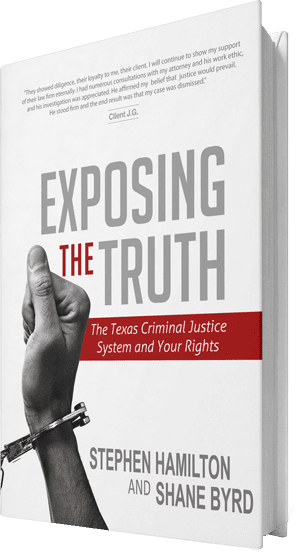 Get Your FREE Copy of the Book by Stephen Hamilton
Exposing the Truth
Secrets of the Texas Criminal Justice System and Your Rights
Generally speaking, fraud is the act of intentionally using deceit to obtain something of value, causing harm to another person or entity. Specific laws pertaining to fraud vary from federal statutes to state laws and can trigger civil or criminal liability. If you think you have been the victim of a fraudulent act, a Lubbock fraud lawyer can review your case and help you determine the best steps to take toward asserting your legal rights. A distinguished criminal attorney can help you build the right defense based on the penalties you face.
Common Types of Fraud
Throughout history, human beings have continually figured out new ways to deceive and profit off of others. Modern technology has created ever-changing methods for fraudsters to target their unwitting victims.
There are innumerable types of fraudulent actions, including common ones such as:
Identity theft
Mail or wire fraud
Telemarketing scams
Credit card fraud
Securities and investment fraud
Auto dealer fraud
Timeshare scams
Internet sales fraud
Pyramid schemes
Check fraud
Charities fraud
Real estate fraud
Fraud Laws in Texas
There are various laws and legal remedies available to a victim of fraud in the state of Texas. Besides common law fraud tools, the primary consumer protection law in Texas is the Deceptive Trade Practices Act (DTPA). Under this statute, a victim of fraud or deceptive trade practices may file an action to collect damages, which may include attorney's fees. In some cases, three times the actual damages are awarded to the plaintiff.
Sometimes the defendant's fraudulent activity constitutes a breach of contract, in which case the plaintiff will allege a breach of contract instead of, or along with, a cause of action for fraud. Many fraudulent actions may rise to the level of criminal activity, in which case a criminal case may be initiated by the state. A victim is free to initiate a civil lawsuit for damages with their Lubbock fraud lawyer, regardless of the existence of a criminal case.
Contacting a Lubbock Fraud Lawyer
You should find an attorney as soon as possible, as there are legal time limits associated with fraud matters. Fraud cases are typically very complicated, but the right Lubbock fraud lawyer will handle your case competently and professionally. Fraud lawyers are adept at combing through all relevant documents and communications related to their clients' fraud cases. Each fraud case tends to be very fact-intensive, requiring an attorney who knows all applicable laws and can conduct extensive fact-finding efforts.