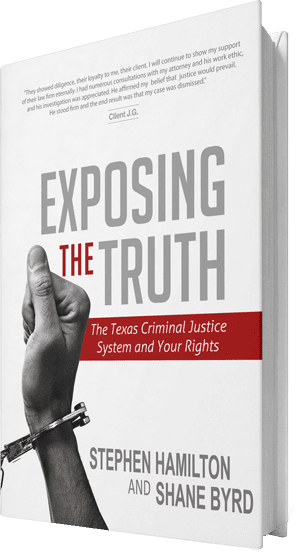 Get Your FREE Copy of the Book by Stephen Hamilton
Exposing the Truth
Secrets of the Texas Criminal Justice System and Your Rights
DWI? Don't Plea, Call Me!™
If you have been arrested for an alcohol-related offense, you need to talk to an experienced Lubbock DUI Lawyer right away. When you select someone to defend you against charges that could literally impact the rest of your life, you need someone with experience and know-how. At Texas Criminal Defense Group, knowledgeable defense attorneys make it their business to learn everything they can about DUI cases. They guarantee that they will put that knowledge to good use when they defend you.
DUI Related Offenses
Attorneys in Lubbock help people who have been charged with:
Driving while intoxicated
Driving under the influence by a minor
Intoxicated assault
Intoxicated manslaughter
Driving while intoxicated with a child passenger
Lubbock DUI attorneys also help people at every stage of the criminal law process—from the day someone gets arrested, through the trial, and (if necessary) to the appeal of a case.
DWI Defense Experience
DUI attorneys in Lubbock have prepared themselves to give their clients the best representation they can. To that end:
Stephen Hamilton is board certified in criminal law by the Texas Board of Legal Specialization.
Stephen has written a book about DWI issues, Texas DWI Survival Guide: A Citizen's Guide. For a free copy of this book, just let us know where to send it.
Stephen has also written a consequences of DWI conviction book so you know from the start of your case all the consequences, including the hidden ones, of a DWI conviction.  Many of these consequences are the ones the "plea lawyers" won't tell you.
Stephen has completed the same training courses completed by state Intoxilyzer experts and breath test technicians. He has also completed training in blood alcohol analysis and forensic blood analysis.
All firm lawyers have completed training on field sobriety tests.
The firm owns its own Intoxilyzer 5000 and Portable Breath Test machines. It also owns a copy of the software that the Texas Department of Public Safety uses in reporting blood alcohol tests
Stephen even teaches other attorneys how to try DUI cases.
If you are looking for a firm with in-depth knowledge about sobriety tests, breath tests, blood alcohol tests, DWI laws, and DWI procedures, you would be hard-pressed to find a firm with more knowledge and insight than in Lubbock. They use their experience, understanding, and skills to provide their clients with aggressive, personalized DUI defense strategies.
Speaking With a DWI Attorney
Lubbock DWI lawyers help clients who were recently accused of alcohol-related offenses. They can also help you if you need a lawyer to take over your existing case or to help you with a DWI-related appeal. Whether a first offense or a subsequent offense, Lubbock DUI lawyers can help. They represent clients with alcohol-related cases throughout Texas.  They have 11 offices to help serve clients. If you or someone you love has been charged with a DUI or drug offense, they are here to help.
If you are facing charges in Lubbock, contact a Lubbock DWI lawyer as soon as possible to discuss your case.