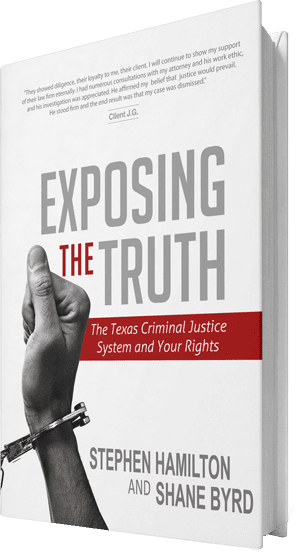 Get Your FREE Copy of the Book by Stephen Hamilton
Exposing the Truth
Secrets of the Texas Criminal Justice System and Your Rights
We are very fortunate to have formed excellent partnerships with many of our clients. And we've formed more than just working relationships with them; we have formed true friendships. Here's what they're saying about us.
Great firm…highly recommend!
We worked with Shane Byrd and he also consulted with Stephen Hamilton. They handled a DWI case. I would highly recommend this firm. They went the extra mile to help us and they were able to work out a positive outcome. Shane listened to our needs and was an excellent communicator. He pushed to get what we hoped for and kept us informed along the way. This firm knows and understands the laws and the procedures needed to handle our case. I appreciate their professionalism, but also their caring attitude.
Endorsed by Christopher Leroi, Mediation Attorney
I endorse and would recommend Mr. Hamilton to everyone and anyone. I have been practicing for 24 years. I was the youngest judge in Colorado history, a magistrate, a prosecutor in three districts, a law professor, and have worked in private practice for years. I still learn from his Avvo answers each and every day. He is a huge credit to the legal system. Hire him.
Endorsed by Michael Wysocki, Divorce and separation Attorney
Mr. Hamilton is a proven winner. This trait is often under estimated in our society, but absolutely necessary in the courtroom. If you want to win the big one, are you going with a cut rate attorney or the best? When it counts, you better retain Stephen Hamilton
When your life is on the line, place it in trustworthy hands!
I hired Stephen and his law firm to defend me in an Unlawful Carry of a firearm charge, but since it was in the parking lot of a facility that sold alcohol, it became a Felony 3rd degree. This is something that carries a large sentence (2 to 10 years) and I did not trust my Life, family or career to any lawyer. I spoke to and had several consults throughout Lubbock, but I kept coming back to Stephen, I felt his team was there to take care of me in my time of great need. When I retained his team they immediately got to work, and with the help of Shane Byrd checking on various codes and ordinances at the specific location of the incident and Amber Beard constantly keeping me up to date even answering the basic questions, I felt as comfortable as you can be in this situation. With the entire team behind me and their swift action we were able to work with the district attorney's office and get the charge rejected before the charge was actually filed. I was told by others that this process could take 90 days up to a year to get resolved. My case was completely resolved in 5 weeks. This is a huge accomplishment, to get your life back and know you are free. The most precious thing we all have is time, and they saved me almost a year of it! Stephen is not the cheapest, but you truly get what you pay for. I even got my firearm back.
Great Attorney, Excellent Service
I had an assault charge and Tommy Hull got my case dismissed without me ever having to go to court. The process was smooth, the staff is very friendly and helpful. They took care of all the paperwork and made any files on my case extremely easy to access through an online profile the law firm created for me. I would definitely recommend them!
Best firm around
From start to finish, you couldn't find a better firm. Mr. Byrd explained the process during my initial consult and was right on. He helped with the fees and really made me feel comfortable in making my decision to hire. Chase was the most straight forward, honest attorney I've ever met. He worked extremely hard and was willing to meet at his office long past 5pm and even returned my calls on the weekend. Mr. Hamilton had an answer to every question and really guided the whole process. I wouldn't hesitate to recommend this team to ANYBODY!!!!
Endorsed by Glen Neeley, DUI and DWI Attorney
Without a doubt, Stephen Hamilton is the best DWI lawyer in West Texas, Lubbock area. I have known Steve for over 15 years. There is no one with more work ethic. Steve fights to win and cares about his clients. He is a dying bread of lawyers. He is a Trial Lawyer. He is not afraid to go to trial and defend the rights of citizens. He has state and federal experience. He has defended the worst of the worst, and the best of the best. He puts his heart into every case. I consult with Steve at least weekly about issues. He has lectured on all aspects of DWI defense and is well respected by other lawyers around him. It is without hesitation that I endorse Stephen Hamilton.
Awesome Trial Attorney
Mr Hull was my attorney for a 3rd degree felony domestic violence charge. I meet Mr Hull and was very comfortable with his background. He has a very calm demeanor and is straight forward. Make no mistakes hire him, he is a beast in the court room. He knows the law and will fight for you or family member to the end. His staff is top notch and are always available either thru phone or website portal. Thank you Mr Hull for everything.
Endorsed by Vaughan De Kirby, Immigration Attorney
As a practicing attorney for over 33 years, I have learned to spot excellence in the legal profession. Stephen Hamilton is just such an attorney. If you or a family member has DWI related needs in Texas, there is one attorney you should call: Stephen Hamilton. In addition to numerous legal and safety certifications, his knowledge is so thorough on DWI/DUI that he literally wrote a book on the subject (make sure you get a copy of the Texas DWI Survival Guide). DUI/DWI law raises complex legal issues and you must have someone like Stephen in your corner working to protect your legal rights.
The Best!!
Stephen Hamilton's firm represented me recently in a case that could have ruined me and my family's lives! I was charged with Possession of a Controlled Substance >400g (Marijuana Concentrate), which is a first degree felony and includes a mandatory minimum sentence of 10 years, up to life. Following Shane Byrd's (the attorney assigned to my case at this firm) instruction, I was able to provide exactly what was necessary to fight the case and achieve the best possible outcome. However, their experience exceeded my expectations and they were able to have to case completely dropped!! Thank you Shane for taking care of me, and a big thanks goes out to Amber, as she was my main contact with the firm. She responded to emails promptly with any new information and helped to keep me calm as we prepared to fight for my future. Thanks all around, as this firm truly made a difference in my life!