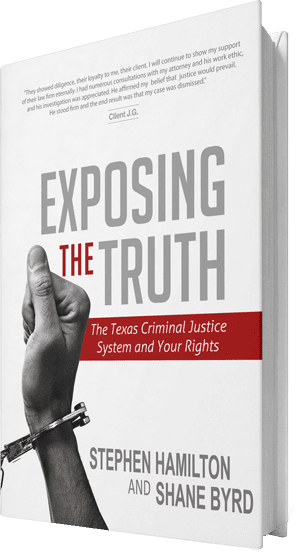 Get Your FREE Copy of the Book by Stephen Hamilton
Exposing the Truth
Secrets of the Texas Criminal Justice System and Your Rights
We are very fortunate to have formed excellent partnerships with many of our clients. And we've formed more than just working relationships with them; we have formed true friendships. Here's what they're saying about us.
Endorsed by Vaughan De Kirby, Immigration Attorney
As a practicing attorney for over 33 years, I have learned to spot excellence in the legal profession. Stephen Hamilton is just such an attorney. If you or a family member has DWI related needs in Texas, there is one attorney you should call: Stephen Hamilton. In addition to numerous legal and safety certifications, his knowledge is so thorough on DWI/DUI that he literally wrote a book on the subject (make sure you get a copy of the Texas DWI Survival Guide). DUI/DWI law raises complex legal issues and you must have someone like Stephen in your corner working to protect your legal rights.
The Best!!
Stephen Hamilton's firm represented me recently in a case that could have ruined me and my family's lives! I was charged with Possession of a Controlled Substance >400g (Marijuana Concentrate), which is a first degree felony and includes a mandatory minimum sentence of 10 years, up to life. Following Shane Byrd's (the attorney assigned to my case at this firm) instruction, I was able to provide exactly what was necessary to fight the case and achieve the best possible outcome. However, their experience exceeded my expectations and they were able to have to case completely dropped!! Thank you Shane for taking care of me, and a big thanks goes out to Amber, as she was my main contact with the firm. She responded to emails promptly with any new information and helped to keep me calm as we prepared to fight for my future. Thanks all around, as this firm truly made a difference in my life!
Endorsed by Grant Scheiner, Criminal defense Attorney
Hamilton is a rare talent. As a board certified criminal law specialist, Steve's knowledge of the law places him in the top 1% of our profession. His creativity, drive, intelligence and trial skills place him even higher than that. As a colleague and fellow criminal defense lawyer I am very familiar with Steve's courtroom ability, particularly in the area of DWI defense. I honestly can't think of a better DWI lawyer in all of West Texas.
You won't regret hiring him!
Stephen Hamilton and his team provided legal advice and guidance during a difficult situation where I found myself charged with a DWI. I got arrested and taken to jail after getting stopped and failing a field sobriety test. Thing is, all my blood work came back negative for alcohol and drugs, but the State still wanted to get me and get me good. He handled my case for a little over a year and he got the entire thing DISMISSED and also my record expunged. He will fight for you till the very end. I found him to be VERY experienced, responsive, knowledgeable and honest. I felt as though my situation was in adept and trustworthy hands, and he did not steer me wrong. I would highly recommend Stephen Hamilton to anyone seeking legal representation that is fair, honest and will keep your best interest and unique needs at the forefront. Believe me when I say this, he is worth every penny!!! This guy really knows his stuff, especially when it comes to DWI's. Thank you Mr. Stephen Hamilton and thank you to all his legal team and staff!
Aggressive DWI Defense in Amarillo, Lubbock, Midland and Odessa
Stephen Hamilton does great A++++ work. I had a situation where I was charged with DWI in Lubbock, Texas. I hired Stephen after being referred from a friend. In my line of work, I could not afford to have a DWI on my record. This incident could have very well ruined my career, and caused me a lot of money down the road. Also, a DWI would have ruined my reputation in the community. Stephen was very helpful, and set clear expectations of the case. He is 100% professional, and made the process as seamless as possible. His services are very affordable as he was able to work out payment arrangements. I am very thankful that I was able to get the DUI charge dropped and it is not on my record. Stephen is very passionate about his work, and puts his clients first. Anytime I had a question or concern he was literally one call away. I have moved on to serve as a leader in the community and move up within my current organization, thanks to the help of Stephen. I have had friends that opted to go with other attorneys and their outcome did not end well. Stephen is hands down the best DUI attorney in this area. If you are reading this, I would strongly recommend you hire him, it will be the best decision you made if you in a DWI situation. A++++++++
Lawyer that Works for YOU!
Steve is a great lawyer that cares. We fought and he continued to fight until he got what I wanted. He works with you and knows who you are. Best Lawyer in Lubbock!
Lubbock DWI client very satisfied with the representation she received from Hamilton and Associates
First off, I would like to say thank you from the bottom of my heart! I am so grateful to have a team as the Hamilton Attorney Law Firm to represent myself in my DWI case of March 2012. They have been nothing less than amazing! I couldn't have asked for anyone else to take my case. The firm has worked on this case since day one.. With everything that I have been going through with this case, my jobs and with school, yes I have had many moments of the overwhelming feeling that I wasn't going to be able to handle it all, but the firm made sure that I would do the most easiest thing on my agenda: BREATHE! I can definitely say that every time that he has called me that I started breaking down into tears just talking to him (but in a good way that I do), because he has always came back with great and wonderful news. All I know is, I am still filled with tears (joyous ones) in my eyes for the outstanding and thanks be to God amazing work that he has handled for me.
If any of my family members or friends were ever in a situation as this, and hopefully they will NEVER be, I would only recommend The Hamilton Attorney Law Firm to them. Why? Because they considered me as a friend each and every time that I walked into that door and not a paycheck. I can't graciously enough thank the law firm!
Stephen Hamilton Review
Mr. Hamilton represented my son in a DWI case. He was very honest with us from the beginning. He told us all the possible outcomes, including the most probable outcome. We had a very favorable decision. I am convinced this was due to the constant communication that Mr. Hamilton had with the DA's office concerning our case. He spoke about specific details regarding the case. I believe the DA's office thought that Mr. Hamilton was very involved attorney, and that this case would be more difficult to win because of his thoroughness and attention to detail.
The Best Defense Lawyer
Mr. Hamilton will be your best and easiest decision when it comes to picking a lawyer for whatever your needs may be. He was available whenever I needed him and always a phone call away. His staff is just as amazing and friendly. I spoke with a couple lawyers before I met with Steve and before he was even done explaining how he operates, I had already decided that he would be my lawyer.
Picking a lawyer is not always easy but Steve made it a done deal. Just the way he handles himself and operates you can tell he is efficient and highly effective. He will work hard to get you the best outcome he can and will go the extra mile to do his best!
I highly recommend Steve Hamilton as your next lawyer and wish you the best of luck!
Wonderful Representation
Mr. Hamilton provided exceptional legal representation regarding my DWI matter in early 2009.
I entrusted Mr. Hamilton from the beginning of my case; he was incredibly honest and up-front about the many possible outcomes I could be facing. The communication I received from his office throughout the duration of my case helped me to feel I had people on my side.
With Mr. Hamilton's ability to negotiate with the District Attorney's office, my legal matter was handled within a timely manner and I was pleasantly surprised with the outcome.
He's a superb and ethical attorney in every respect. I would highly recommend Stephen Hamilton for any future defense needs.