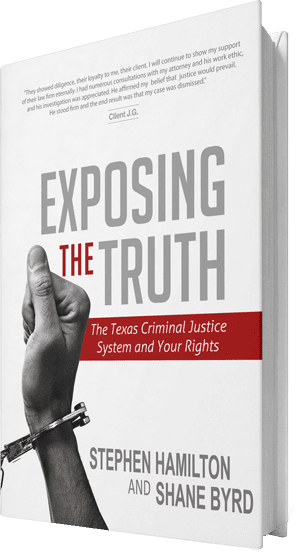 Get Your FREE Copy of the Book by Stephen Hamilton
Exposing the Truth
Secrets of the Texas Criminal Justice System and Your Rights
One of the most stressful experiences you may ever have in your life is being arrested in Texas for Driving While Intoxicated (DWI). DWI remains a misdemeanor, however, it can feel much more severe both during the ordeal and after it concludes.
To many, being charged with a DWI truly feels like you are being treated like a felon, and the experience can affect your life profoundly. Naturally, all of us worry and stress about what our family, friends, and employer would think if they were to find out about being our DWI arrest and charge.
If you are in this situation, contact an experienced Amarillo DWI lawyer, who can assertively defend you and your case. A seasoned DWI lawyer can help you through the entire complex legal process, fighting for your interests.
DWI Arrests
After being pulled over, the officer typically comes to the driver's side window, and poses some questions, such as "how much have you had to drink?" After conducting some type of field sobriety test(s), they may proceed to inform the driver that they have failed the test(s).
What follows are those dreaded words, "Please place your hands on the vehicle. I am placing you under arrest for suspicion of DWI."
The arresting officer may read the driver rights when they are arrested. Please note that the Miranda rights are not always necessary. However, they are required should the officer intend to question them.
Typically, the questions already occurred during the pre-arrest inquiry. Still yet, the police may choose to read the driver a "Statutory Warning." Then, they will ask that the person provide either a blood test or breath test.
How an Amarillo DWI Attorney Can Help
After an individual has chosen the proper Amarillo DUI lawyer, who is widely experienced with handling DWI cases, they will meet with them to go over the facts surrounding the case. It is essential that someone charged with a DWI meets with their lawyer as soon as possible, because, over time, memories tend to fade.
Successful DWI cases are won in the details of the case. An individual should be sure to share any details that might help their case, including their present life situation, with the attorney. For example:
Whether they are going through a divorce, or experienced a death in the family
Any health conditions, such as any ailments, injuries, or medications that may affecttheir mental and/or physical well-being
Details surrounding the day of, and night before, the arrest, as well as throughout the booking process
Any work-related details like injuries, stress, and/or loss of a job
As to any of the details surrounding a person's case, they should not share said facts with anyone except their attorney. Of course, any and all communications with between the defendant and their attorney are considered privileged information.
Contacting an Amarillo DWI Lawyer Today
Driving while intoxicated charges are very serious matters, without question. The stressful troubles of a conviction are immediate and accompany you well into the future. Affecting your wallet, insurance, relationships, and job prospects.

If you are accused of a DWI, it is critical that you speak with a dedicated Amarillo DWI lawyer. Experienced attorneys are dedicated to zealously defending you, battling for the best possible result. Call today to arrange an initial consultation.
---
Over The Edge
We are excited to announce that we will be partnering with Family Support Services to raise funds for their Over the Edge initiative. All proceeds will support more than 250,000 people who have been victims or sexual abuse and/or domestic violence. As well as organizations dealing with human trafficking intervention and prevention, veteran resources, behavioral health and wellness, and more. Help us reach our goal of $1,000! Visit our event page to learn more about this initiative!