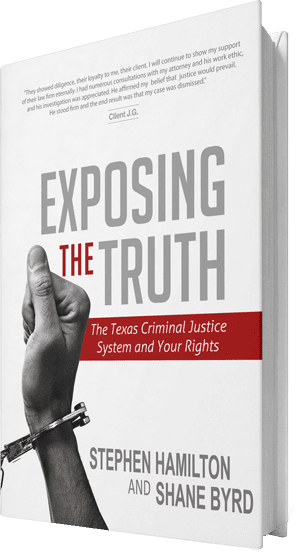 Get Your FREE Copy of the Book by Stephen Hamilton
Exposing the Truth
Secrets of the Texas Criminal Justice System and Your Rights
Date rape is one of the most common types of rape and is also the most commonly reported type of sex crime in Texas. Being charged with date rape can create real and devastating obstacles for the accused. Date rape often involves the use of date rape drugs including gamma-hydroxybutyrate, ketamine, and Rohypnol.
By contacting a Midland date rape lawyer, you can increase your chances of reaching a positive outcome in your case. A capable defense attorney can attempt to leave no stone unturned when defending you, and investigating your case.
Date Rape Classifications
There are several types of offenses that can be found by a court of law to constitute date rape. An individual could be charged with forcing a person or threatening a person with force to have sexual intercourse. Date rape can also occur in cases where the accuser was either impaired or incapacitated and unable to provide consent.
Within the state of Texas, there is no specific law that defines date rape. Penal law, however, does contain statutes that criminalize sexual acts that occur without the other individual's consent. Two of these statutes are Texas Penal Law section 22.011, which criminalizes sexual assault, and Texas Penal Law 22.021, which prohibits aggravated sexual assault.
Aggravated Sexual Assault
The offense of aggravated sexual assault includes:
Administering some types of substances without consent
Causing or attempting to cause death or serious bodily injury
Using a deadly weapon during the offense
Consequences of Conviction
Date rape-related offenses carry penalties similar to individuals who are convicted of other types of rape. Depending on the severity of the case, penalties can result in extended prison sentences, a lifetime registry if convicted of the offense, and probation periods.
Many convicted of date rape experience substantial obstacles in finding employment, obtaining loans, and securing housing. A Midland date rape lawyer can act on behalf of individuals to present a strong defense to date rape charges.
Potential Defenses
Rape defense is very challenging and requires legal counsel to analyze some complicated issues which frequently require input from medical experts, private investigators, and psychologists.
However, there are some important defenses that can be raised in response to a date rape charge. Some of these defenses include:
Consent was provided: In some cases, a person can argue that the other individual consented to the sex act, which means that rape did not occur because rape requires lack of consent by one of the involved parties
The sex act did not involve the defendant: Individuals can frequently argue that the sex act in question did not involve the defendant
The accuser's motivation: The person accusing another of date rape might have ulterior motives for alleging date rape
Reasonable doubt standard not et: The state of Texas is required to prove beyond a reasonable doubt that an individual is guilty of date rape. The existence of only oral testimony might not satisfy such a high requirement
Speaking With a Midland Date Rape Attorney
A person convicted of date rape can face some very serious penalties and challenges. If you are facing a date rape charge, it is important to obtain the assistance of a Midland date rape lawyer. To increase your chances of obtaining a successful outcome. Therefore, trust a Midland date rape attorney that could advise you on all options available to you.