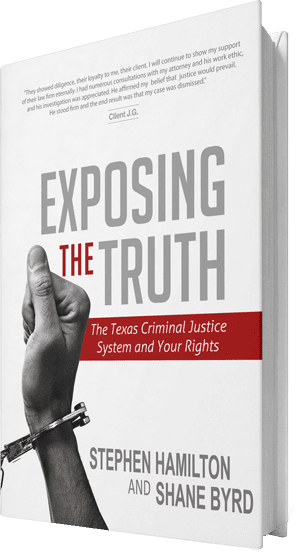 Get Your FREE Copy of the Book by Stephen Hamilton
Exposing the Truth
Secrets of the Texas Criminal Justice System and Your Rights
Sexual assault encompasses a variety of violent sexual acts. Some of the most common types of sexual battery include attempted rape, forced intercourse, and rape. Any type of unwanted sexual advance in which any part of a person's body touches another person's body can be found by a court of law to encompass sexual assault. Individuals who are charged with sexual assault face many obstacles including some challenges that will last for the rest of their life.
A Midland sexual assault lawyer can help you create a strong defense to increase the odds that your case will resolve in a positive manner. It may be critical to contact an experienced sex crimes attorney as soon as possible.
Degrees of Sexual Assault Charges
There are several types of sexual acts in Midland that are considered assault. Two of these offenses include:
Sexual acts with s minor under the age of 17. In the eyes of the law, children are viewed as unable to provide consent to a sexual act of any nature.
Sexual acts with a person who cannot provide consent because they were either drugged or incapacitated.
However, a charge of sexual assault is classified as aggravated sexual assault if:
Ketamine or Rohypnol was used to restrain the accuser
A person caused serious bodily injury to the alleged victim
The person committed the crime with another person
The person used a deadly weapon or displayed one during the commission of the crime
The accuser is disabled, elderly, or younger than 14 years of age
The alleged victim suffered serious bodily injury as a result of another's actions
Penalties Associated with Sexual Crimes
Texas classifies sexual assault as a second-degree felony and can result in up to 20 years in prison and a fine of up to $10,000. The assistance of a Midland sexual assault lawyer may help to mitigate these consequences.
The crime of sexual assault can be classified as a first-degree felony if the alleged victim was someone the person was prohibited from marrying. First-degree felonies can result in a person facing up to 99 years in prison and a fine of up to $10,000. However, someone convicted of aggravated sexual assault faces a first-degree felony charge and up to 25 years in prison.
Defending a Sexual Battery Charge
Midland sexual assault lawyers are often able to create strong legal defenses by analyzing a person's case and discovering significant evidence. Some of the most common defenses raised by our defense attorneys include:
The act that was performed was medical in nature – not a sexual act
The person who initiated the lawsuit has a history of lying about being a sexual assault victim
The person who initiated the lawsuit has been coerced or influenced by another party to make an accusation
The sexual act was really consensual
The person who has initiated the lawsuit is seeking revenge
Help From a Midland Sexual Assault Attorney
From start to finish, if you are charged with sexual assault. A Midland criminal defense lawyer can help you fight for your rights. Experienced attorneys understand the many complications that being convicted of sexual assault can bring to a person's life including the obstacles that arise in education, employment, and social status. Therefore, contact a Midland sexual assault lawyer for strong legal assistance.