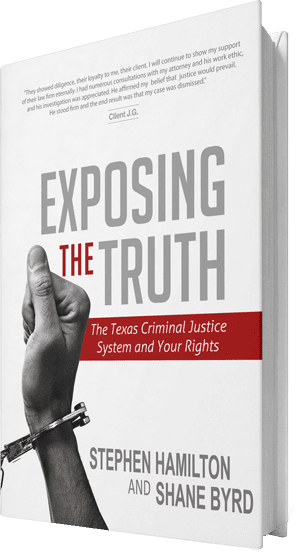 Get Your FREE Copy of the Book by Stephen Hamilton
Exposing the Truth
Secrets of the Texas Criminal Justice System and Your Rights
Robbery in Texas is a type of theft crime in which one individual illegally takes property or money from another individual through the use of force, intimidation or the threat of causing physical harm. Armed robbery is takes place while using or being in possession of a deadly weapon. Penalties for armed robbery are much more severe than the penalties for robbery. Robbery will generally be charged as a 2nd degree felony crime and penalties. In addtion, will include up to 20 years in prison and thousands of dollars in fines. Armed robbery will be charged as a 1st degree felony crime and could lead to life in prison.
If you have been charged with armed robbery in Texas, you need an aggressive Texas armed robbery lawyer who has had extensive criminal trial experience defending high-stakes criminal defense cases. You do not want to find yourself facing a lifetime sentence when you may be able to get a reduced sentence. Have the charges against you dismissed or achieve an acquittal at trial. Our firm is devoted to protecting the rights of our clients. We take pride in having helped hundreds of clients fight the charges they face with exceptionally successful results.
Contact our Texas Armed Robbery Attorneys
When facing armed robbery charges, you do not want to risk your freedom. And your future by putting your case in the hands of an unskilled and unproven attorney. If you are looking for a powerful criminal attorney you can count on to do everything possible to defend you. Contact an armed robbery attorney at our firm today.