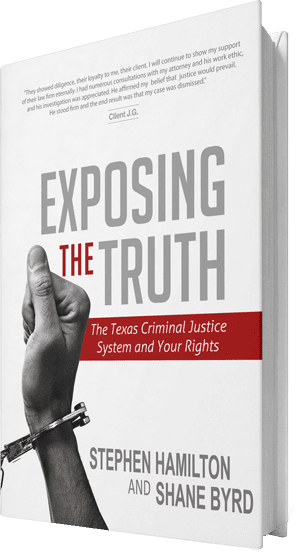 Get Your FREE Copy of the Book by Stephen Hamilton
Exposing the Truth
Secrets of the Texas Criminal Justice System and Your Rights
A mere arrest under suspicion of criminal activity could throw your life into chaos. You may not understand your rights under the Constitution or what to expect while in police custody. Even when appearing in court for the first time, you stand a far better chance for a positive outcome if you understand the process and can take positive steps to protect yourself. Contact a criminal attorney.
A Richardson criminal lawyer could provide help every step along the way. Well-practiced attorneys could help to protect you while still in police custody, appear in court on your behalf, analyze the prosecutor's case for any weaknesses, and develop a strategy designed to work towards your goals.
What to Expect in Richardson Court
Criminal courts move more slowly and with much more precision than people usually expect. A defendant does not need to provide a defense during their first appearance and it is unusual for a case to get to trial within a year of the arrest. Criminal procedure in Texas follows a deliberate, step-by-step process for handling cases.
A first hearing is called an arraignment, and it is a chance for a defendant to formally hear the charges brought against them. For many misdemeanor cases, defined by Texas Penal Code §1.07 (31), it may also be an opportunity to enter into a plea deal. A Richardson criminal lawyer could help enter these criminal plea deals on favorable terms.
Other cases, notably felonies, will take place over the coming months during pre-trial hearings. These hearings are an opportunity to exchange information, file evidentiary motions, and prepare for a potential trial. It is only after these preliminary hearings are completed that a defendant has the opportunity to have a trial. A criminal attorney in Richardson could stand by a person's side during the entire process to protect their rights and file the necessary motions to improve their chances of success.
[location_attorney]
The Role of a Criminal Attorney
Defense attorneys help in a number of ways. Perhaps the most important is ensuring that courts respect the defendant's Constitutional rights. These include the right to have a speedy trial, the right to privacy, and the right to confront their accusers. Attorneys work to protect these rights by filing evidentiary motions made after researching the relevant laws.
Attorneys also help to conduct independent investigations into the alleged incidents. This may include talking to any witnesses. This may also include hiring private investigators or working with expert witnesses who can aim to disprove a prosecutor's theory of their case.
A lawyer could serve as an advocate in court. From the first court hearing and arraignment, it is vital for the accused to understand their rights and argue for them in a clear manner. A defendant's legal counsel could help throughout the process to seek a positive outcome.
A Richardson Criminal Lawyer Could Be an Advocate
Even an allegation of a simple misdemeanor can forever change your life's path. Any criminal conviction in Richardson will create a criminal record, and even low-level misdemeanors carry a potential jail sentence. More serious felonies may result in multiple-year prison sentences and in many cases require a judge to issue this penalty.
People facing any type of criminal charge in Richardson should take an aggressive stance to protect themselves. A Richardson criminal lawyer could provide essential protection. They work to protect your rights and defend your freedom from an initial arrest to the conclusion of your case. Call today to schedule a consultation.