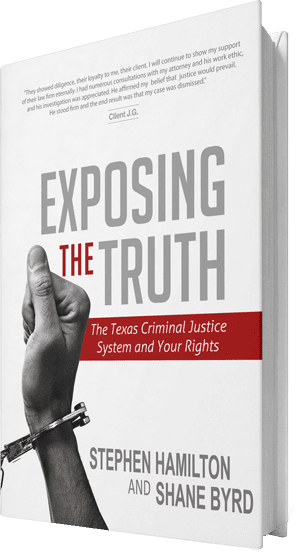 Get Your FREE Copy of the Book by Stephen Hamilton
Exposing the Truth
Secrets of the Texas Criminal Justice System and Your Rights
Gun laws in Texas are generally similar to federal gun laws. Although a permit is not required to purchase or possess a gun, there are restrictions on where, when, and how you may carry a gun. Furthermore, gun laws are continually changing, making it difficult to discern whether you have violated the law.
If you are facing allegations related to gun use or possession, a Fort Worth gun lawyer could help you understand state law and provide legal information about gun-related offenses. A dedicated criminal defense lawyer could help you determine what to do when you are facing charges.
Fort Worth Gun Laws
There are certain groups of people are who barred from possessing a firearm by Texas law. Additionally, there are several restrictions to where someone can legally carry a weapon.
Possession Restrictions
Generally, people with a felony conviction cannot legally possess a firearm, as defined in Texas Penal Code § 46.04. Other individuals who may not possess firearms include those with Class A misdemeanor convictions of domestic assault and those subject to current protective orders. However, people may have their right to possess a gun restored in a limited capacity five years after the completion of all sentence requirements.
It is all illegal for all private citizens to possess a gun in certain places around Fort Worth. Some of these restricted spaces include:
Schools and colleges
Government courts or offices
Racetracks
Secured areas in airports
The penalty for violating these gun restrictions may be extremely harsh. A Fort Worth gun attorney could help decipher state gun restrictions and build a defense against any gun-related charges.
Gun Licenses
Fort Worth individuals do not need a license to purchase or carry a handgun on their own property, including in their homes, vehicles, or boats. However, owners cannot carry handguns in plain sight while in vehicles or boats, including in a shoulder belt or holster, without a concealed handgun license.
Discharge and Display of Guns
Intentionally discharging a firearm in a public place is prohibited under Tex. Pen. Code § 42.01. Similarly, individuals are also prohibited from publicly displaying a firearm in an attempt to alarm others.
Penalties for Different Offenses
Depending on the severity of an alleged offense, gun charges could range from Class C misdemeanors to third-degree felonies. The illegal discharge and display of a gun, carrying without a concealed weapons permit, and the possession of a gun by a prohibited person are all misdemeanors offenses. These generally carry a maximum one-year jail sentence and associated fines.
However, those with prior convictions in Fort Worth may wish to consult a gun lawyer if they are charged. Anyone with a previous felony conviction who is found illegally possessing a firearm or violating carry restrictions could face a prison sentence of ten years and fines up to $10,000.
How a Fort Worth Gun Attorney Can Help
Allegations of gun-related offenses carry serious consequences. As gun laws are constantly changing, many people will violate a statute unintentionally. However, the illegal possession, carry, discharge, or display of a firearm could result in fines, a criminal record, and incarceration.
Fortunately, there are exceptions written into Texas gun laws. A knowledgeable Fort Worth gun attorney could help individuals facing charges understand relevant gun laws and work towards a favorable outcome. Although facing any criminal charge can be frightening, an attorney could help you understand charges and take the first step to defend against a gun-related accusation. Schedule an initial consultation with an attorney today and begin working on your defense.