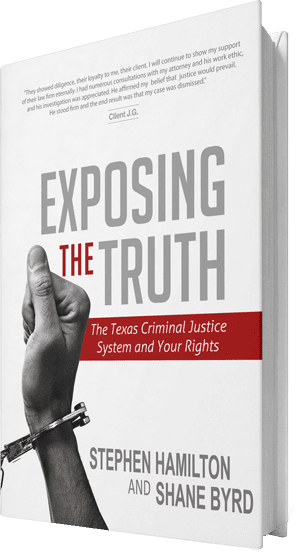 Get Your FREE Copy of the Book by Stephen Hamilton
Exposing the Truth
Secrets of the Texas Criminal Justice System and Your Rights
DETENTION HEARINGS
Juvenile Law is a relation to Criminal Law. While numerous aspects of Juvenile Law are comparable to Criminal Law such as offenses charged, Rules of Evidence, and harmonious verdicts, there are some significant differences.
Detention Hearings Juvenile Court is a quasi-civil court, technically falling into the Family Court System. Since it isn't considered illegal a juvenile held under its jurisdiction isn't entitled to bail.
In Juvenile Law, if a youth is detained, he or she has the right to an initial hearing within 48 business hours of their detention. This hearing is called a Detention Hearing. The Judge presiding over the detention hearing has the right to detain or release the youth based on five distinct criteria.
Likeliness to abscond
Suitable supervision
Ability to return to Court
Dangerousness to himself herself or the public
Former juvenile record
Nevertheless, also a hearing must be held every ten business days to determine if the youth is eligible for release, If the youth isn't released. And just like the adult court system, the Judge can place conditions on the youth's release.
INDETERMINATE AND DETERMINATE SENTENCES
Indeterminate and Determinate Sentences- There are two possible discipline fates within the Juvenile Law system. Which type of punishment path is used for all practical purposes is determined by the District Attorney's Office, the type of felonious offense charged, and the age of the youth.
Indeterminate Sentences are rulings in which no time is set on an adjudication( conviction). Youth can be condemned to probation up until his or their 18th birthday and for a felony offense a ruling of incarceration( imprisonment) to the Texas Juvenile Justice Department until their 19th birthday. A third option also exists which is a placement in a facility similar to a boys or girls ranch or drug treatment center.
Determinate Sentences are frequently used for old youths with serious charges or repeat lawbreakers. A Determinate Sentence is for certain felony-degree offenses. Determinate Sentences are a combination of youth/ adult discipline. Determinate Sentences are split-up into three situations depending on the degree of the felony offense contended.
First-degree felonies are considered D- 40 offenses, second-degree felony offenses are D- 20 offenses, and third-degree felonies are D- 10 offenses. The significance of the number is it's the number of years in detention/ incarceration a youth can receive on adjudication for that degree of the offense.
A Determinate juvenile sentence may be probation or imprisonment, which will start in the juvenile court system with only the possibility of transfer to an adult court system.
Two factors will ultimately determine if the juvenile case will be transferred to the adult court system.
The gravity of the case
The conduct of the youth while on probation or in TJJD custody.
This hybrid system works as an incitement for the youth to be successful on probation or while being incarcerated. However, a youth who was placed on probation can be released on their 19 " birthday without the necessity of being transferred to the adult system to complete the remaining probationary time, If successful. A youth who was placed in TJJD can be placed on juvenile parole and not be required to complete the remainder of their total incarceration sentence in the adult incarceration system.
CERTIFIED AS AN ADULT
The most serious result of a juvenile criminal offense is for a juvenile to be certified as a grown-up. The certificate is limited to serious felony offenses and the youth must be of a certain age. A hearing is held before the Juvenile District Judge who'll decide if the youth should be placed in the adult criminal system.
Four factors are used in determining who'll be certified as a grown-up.
Offense against a person or property, higher weight for the person
complication and maturity of the juvenile
former record
If remaining the juvenile system provides acceptable protection for the public and services to rehabilitate the juvenile
JUVENILE SEALS
Juvenile records can only be sealed, expunction of records doesn't exist. Over time the capability to have a youth's records expunged has come less expensive, possible at a young age, and if some cases have been done automatically.
The capability to seal a youth's records only applies to Indeterminate sentences, not delinquent findings and charges which affect a dismissal. For offenses that are penalized as a Determinate sentence, juvenile record sealing isn't possible.