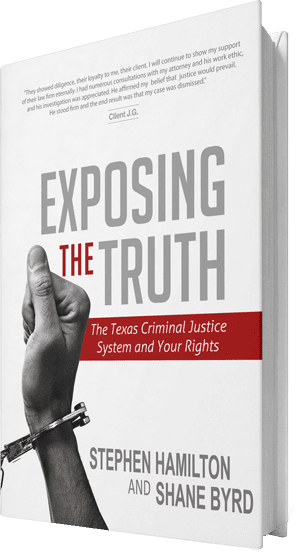 Get Your FREE Copy of the Book by Stephen Hamilton
Exposing the Truth
Secrets of the Texas Criminal Justice System and Your Rights
Texas is known as perhaps one of the most firearm-friendly states when it comes to gun carrying laws. That being said, Texas can also easily be considered to be one of the strictest when it comes to coming down hard on those who either do not follow proper protocol in carrying their guns or do not legally have the right to purchase guns.
With that in mind, it is particularly important that those who have been charged with unlawful carry or brandishing a weapon in the commission of another crime to immediately seek the counsel of a Midland gun lawyer to review the details of their case. An experienced Midland defense lawyer can help build a defense and ensure you are prepared for what to expect.
Illegal Carrying of Weapons
Although Texas is considered to be one of the most pro-gun states in the nation. There are a number of people that are precluded from possessing a weapon under the Texas Penal Code § 411.172 including:
Felons or someone convicted of a misdemeanor in the past five years
Those who have lived in the state for less than six months and have not yet completed a conceal-carry permit application
Those subject to collections by the State Attorney General's Office for being behind on child support payments
Those facing a restraining or other court order for a domestic violence charge
Those with illicit or prescription drug addictions
Those with intellectual disabilities
Those under 21 years of age
Illegal Carrying of Weapons (Continued)
In addition to the aforementioned, there are also various circumstances in which guns cannot be carried in Texas. Regardless of whether one has been extended a conceal-carry permit or not. Among the places where guns are not permitted at any time. Are any public entertainment facility, religious institution. Places that make 51 percent or more of their revenue off the sale of alcohol, on school premises. Within 1,000 feet of a jail or law enforcement agency, at an airport, or polling stations. Possession of excessive amounts of guns, as is the case with trafficking. This is strictly forbidden in the state.
If you have been charged with possession in one of the aforementioned areas or circumstances. A Midland gun lawyer can help.
When the use of a gun accompanies the commission of another crime, the presence of the gun is seen as being evidence of a threat of bodily or serious bodily injury. That being said, weapons that are utilized in the commission of other crimes such as an assault or murder are considered to be aggravated and carry the most severe penalties on the spectrum of punishments, as such it is vital to be in contact with a gun defense attorney in Midland as early as possible.
Sentences for Texas Gun Law Violations
If convicted of any of the aforementioned violations of gun laws, Texas provides strict mandatory prison sentencing guidelines that judges must follow when penalizing gun crimes. Misdemeanor offenses can carry as much as a $2,500 fine and one-year imprisonment. While felony convictions for gun crimes can carry up to $10,000 in fines. As well as a prison sentence of two to 10 years.
For felons with previous convictions. An unlawful carry conviction will count toward Texas' harsh three strikes law. A violation which could ultimately lead to lifetime imprisonment.
Gun Law Defenses
If you have been charged with a violation of Texas' state gun laws. It is important to contact a Midland firearm charges attorney to sort out the details surrounding your case. In doing so, an attorney can guide you through materials to discuss the prospective fines and minimum sentencing requirements related to your particular charge.
If you decide to work with one another, your attorney will discuss strategies to help you avoid jail time for misdemeanor charges, to have your felony charge downgraded to a misdemeanor, or how to avoid a prospective felony conviction counting toward the state's three strikes law.
For more information on this topic please reach out to our experts from the Texas Criminal Defense Group at (866) 557-4343 or through our contact page.